James Bond Movie - Thunderball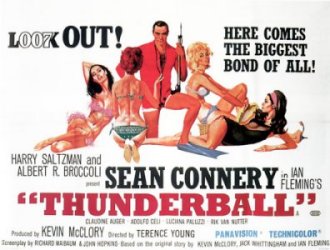 Info
Table of Contents
Regulars
Plot
James Bond is sent to the Shrublands health clinic as M decides that he drinks too much, and is too out of shape. Bond soon discovers a dead man with bandages covering his face, and narrowly misses multiple death attempts because of it. He finds out that the dead man was Francois Derval, a NATO pilot who was about to embark upon a top-secret training mission, complete with two atomic bombs.
Derval was killed by SPECTRE agent Angelo, who gets plastic surgery so that he can pass as Derval. He goes aboard the training mission, gasses the other passengers and crashes the plane into the sea in the Bahamas. With the bombs in their hands, SPECTRE holds the United Kingdom and the United States for ransom, asking for 100 million pounds in diamonds.
Bond goes to Nassau in search of Derval's sister Domino. He discovers that she is the mistress of Emilio Largo, the second in command to Blofeld. He befriends Domino to get to Largo and manages to infiltrate his scuba team when they go to recover the bombs from an underground cave. Bond is eventually discovered and narrowly escapes death in his flee from Largo's men.
Felix Leiter comes to the rescue with a squadron of coast guard men, who parachute into the water and defeat the majority of Largo's crew. Largo manages to escape to his yacht, but Bond is not far behind. A fight ensues in the boat's helm, and Largo gets the upper hand. Just as he is about to kill Bond, the arrow from a harpoon gun shoots through Largos heart, as Domino gets revenge for her brother.
Legal Issues
Before the Thunderball novel had been written, Kevin McClory, Jack Whittingham and Ian Fleming had got together to write a screenplay for a James Bond film. The project was eventually scrapped, but Fleming used some of the general ideas in his next novel. Kevin McClory claimed that he had created Blofeld, SPECTRE, and a few other elements present in Thunderball.
The point is highly debated, as Ian Fleming wrote several memos discussing SPECTRE, before he had even met McClory, so he really had a false argument. But it still had its effect. Cubby Broccoli and Harry Saltzman had originally intended Thunderball to be the first film of the series, but they backed off due to the fuss McClory was creating, and choose Dr. No instead.
Kevin McClory later sued Fleming and won the rights to Thunderball, SPECTRE and Blofeld. EON Productions had already used Blofeld in From Russia With Love, and Dr. No had been a member of SPECTRE. So they made an agreement with McClory, that they would make him a Producer for Thunderball if he'd let them film it, and if they could use SPECTRE and the Blofeld character for the next 12 years.
The agreement went through, and Thunderball went on to become the highest grossing Bond film of all time, earning almost a billion dollars, adjusted for inflation. Blofeld and SPECTRE were used again in You Only Live Twice, On Her Majesty's Secret Service and Diamonds Are Forever. Shortly after that, their agreement expired, and SPECTRE disappeared from the series.
Music
The Thunderball theme is one of the boldest, richest songs of the series. It features John Barry's great use of brass and percussion, coupled with the deep but vibrant voice of Tom Jones. But interestingly, it wasn't the first piece written for the film. John Barry had originally composed the song Mr. Kiss Kiss Bang Bang, with lyrics by Leslie Bricusse, who had also worked on the lyrics for Goldfinger.
Shirley Bassey and Dionne Warwick both recorded the song, but in the end, the producers decided that the film's title had to be in the song, so Mr. Kiss Kiss Bang Bang was scrapped. John Barry brought in lyricist Don Black and scored a new theme from scratch, with vocals by Tom Jones. During recording of the songs finale, Tom held the last note for so long that he passed out! His extreme efforts and dedication produced a fantastic opening, for what would become the highest grossing Bond film of all time.
| Track # | Song | Author |
| --- | --- | --- |
| 1 | Thunderball (Main Title) | Tom Jones, John Barry |
| 2 | Chateau Flight | John Barry |
| 3 | The Spa | John Barry |
| 4 | Switching The Body | John Barry |
| 5 | The Bomb | John Barry |
| 6 | Cafe Martinique | John Barry |
| 7 | Thunderball | John Barry |
| 8 | Death of Fiona | John Barry |
| 9 | Bond Below Disco Volante | John Barry |
| 10 | Search for the Vulcan | John Barry |
| 11 | 007 | John Barry |
| 12 | Mr. Kiss Kiss Bang Bang | John Barry |
| 13 | Gunbarrel/Traction Table/Gassing the Plane/Car Chase | John Barry |
| 14 | Bond Meets Domino/Shark Tank/For King and Country | John Barry |
| 15 | Street Chase | John Barry |
| 16 | Finding the Plane/Underwater Ballet | John Barry |
| 17 | Underwater Mayhem/Death of Largo/End Titles | John Barry |
| 18 | Mr. Kiss Kiss Bang Bang | John Barry |
Goofs
Every movie has a few interesting and sometimes funny mistakes, but most lists of movie goofs are full of duplicates, and pick apart the tiniest details, like a speck of dandruff disappearing between shots! Here we try to list the best of the bunch, short and sweet.
In the climactic boat scene, a fight ensues, and the captain's hat gets knocked off three times.
When Bond is dancing in the Kiss Kiss Bang Bang club, the band in the background is playing trumpets and other brass instruments, yet the music is purely strings.
When Bond looses his goggles in the underwater scene, he takes some from another diver. But he's underwater when he puts them on, so they would be full of water.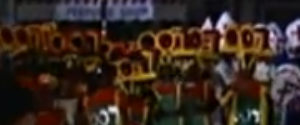 007 Costumes
During the Junkanoo festival, it is quite obvious that some of the extras made their own costumes, as they're all wearing 007 hats! (See image)
When Domino is told that her brother is dead, her tears make her mascara run. Yet she had been diving minutes before.
The blackmail message from SPECTRE says to drop the ransom in a container off the coast of Burma, in the Mergui archipelago, latitude 20 degrees north, longitude 60 degrees east. However, the coordinates are almost 3000 miles off.
Box Office
| | |
| --- | --- |
| Opened in # Theatres | Unknown |
| Production Budget | $11 Million (~$37.9M with inflation) |
| Worldwide Gross | $141.2 Million (~$955.3M with inflation) |
Crew
Director
Terence Young
Editor
Peter Hunt
Producers
Albert R. "Cubby" Broccoli
Harry Saltzman
Kevin McClory
Writers
Ian Fleming (Original Novel)
Richard Maibaum (Screenplay)
John Hopkins (Screenplay)
Kevin McClory (Pre-Novel Ideas)
Jack Whittingham (Pre-Novel Ideas)
Musicians
John Barry
Production Designer
Ken Adam
Awards
John Stears won an Oscar for Best Effects and Special Visual Effects in 1966
Sean Connery won a Golden Lauren in the Action Performance category in 1966
Richard Maibaum was nominated for a Edgar Allan Poe award for Best Foreign Film in 1966
Ken Adam was nominated for a BAFTA award for Best British Art Direction (Colour) in 1966