James Bond Actor - Sean Connery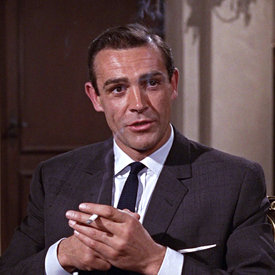 About
| | |
| --- | --- |
| Life | August 25th, 1930 - Current |
| Birthplace | Edinburgh, Scotland |
| Gender | Male |
Summary
Sean Connery is a Scottish actor who is best known for playing James Bond 6 times in Dr. No, From Russia With Love, Goldfinger, Thunderball, You Only Live Twice, Diamonds are Forever, and the unofficial Bond film Never Say Never Again. Sean Connery IS James Bond.
Biography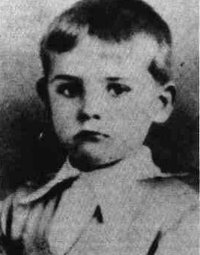 Early Life
Sean Connery was born in the Fountainbridge area of Edinburgh, Scotland, to mother Euphemia Connery, and father Joseph Connery. His parents were both from the Isle of Skye, his mother working as a cleaning women, and his father as a lorry driver and factory worker. Sean was born Thomas Sean Connery, but he was called by his middle name long before his acting career.
Sean's first job was as a milkman at the St. Cuthbert's Co-operative Society, where he first started in 1944 at the age of 14. At 16, he joined the Royal Navy, but was discharged 3 years later on medical grounds, due to a nasty stomach ulcer
While in the Navy, Sean got two tattoos. However, unlike many of the other enlisted men, Sean's tattoos reflected his lifelong commitments, one saying "Scotland Forever", and the other "Mum and Dad".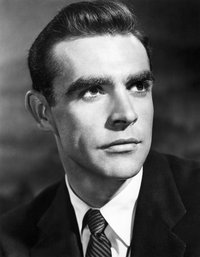 After being discharged, Sean returned to the co-op briefly, and then worked at a stream of more physical jobs including a bricklayer, a lifeguard and a coffin polisher. He spent much of his free time bodybuilding, and would place third in the 1953 Mr. Universe competition.
Sean was a skilled footballer, and it is rumored that Manchester United manager Matt Busby offered him a contract with a decent starting salary. Sean admitted that it was tempting at the time, but he realized that a "top-class footballer could be over the hill by the age of 30, and I was already 23", and went into acting instead.
Sean's acting success certainly didn't come overnight. He started out doing modelling for the Edinburgh College of Art, earing 15 shillings an our. He then moved into theatre, starting out as a backstage help at the King's Theatre in 1951, but later getting a few bit parts here and there. It was about 8 years before he was cast opposite Lana Turner in Another Time, Another Place, one of his first staring roles, shown right.
A Career in Film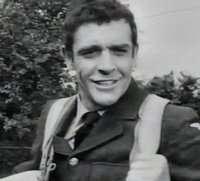 Sean's first minor film role was in the 1957 B movie No Road Back, where played a gangster Spike, who had a speech impediment. He then played a lorry driver Johnny Yates in Hell Drivers in the same year. Hell Drivers starred Stanley Baker, who later turned down the role of James Bond, not wanting to commit to a 3 year contract.
Sean's next role was in Action of the Tiger which was directed by future Dr. No, From Russia with Love and Thunderball director Terence Young. Another Time, Another Place was his first staring role, as previously mentioned.
Sean did four more films before Dr. No. The first was the Walt Disney film Darby O'Gill and the Little People, where he played a young Irishman named Michael McBride. The film was praised, but Connery was reviewed as being "merely tall, dark, and handsome."
He then played the starring role in a British comedy film On the Fiddle, that wasn't released in America until 1965, when Sean Connery was a household name worldwide. After playing the burglar Paddy Damion in The Frightened City, Sean starred in The Longest Day, which also featured future James Bond villains Gert Frobe (Goldfinger), and Curd Jurgens (Stromberg).
Sean Connery IS James Bond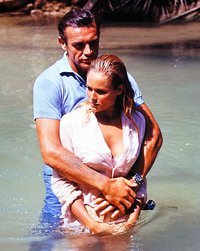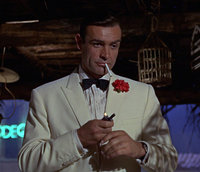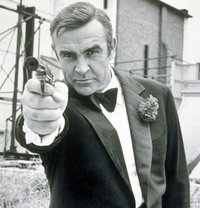 In 1962, Sean was approached by producers Cubby Broccoli and Harry Saltzman, who were looking for a rugged, strong and confident lead actor to play James Bond, preferring Connery over the big stars of the time like Cary Grant. While Sean was initially concerned about committing to a film series, he decided it was a good career path, and became the first James Bond actor in cinema, with Dr. No.
Dr. No's director Terence Young played a key role in the start of the James Bond series. Ian Fleming was initially unsure about Connery, thinking he was to rough and unkempt. Terence helped to convince him otherwise, and gave Sean tips on how to dress and walk. Some of the crew have said that Connery was merely imitating Terence on set, but they both agreed that it worked.
Connery returned for From Russia with Love, Goldfinger and Thunderball, each surpassing the prior films at the box office. While filming You Only Live Twice, Sean decided that the series had become too formula-based, and feared that he would become type cast. Despite the producers best efforts, Sean Connery left the role of James Bond.
George Lazenby was brought in for On Her Majesty's Secret Service, but he wouldn't sign a multi-film contract and demanded an outrageous salary to return. Cubby Broccoli and Harry Saltzman had already sold some of the proceedings of Diamonds are Forever to investors, to help fund the film, and they were in desperate need of an actor.
After negotiations with George Lazenby fell through, the head of United Artists told the producers to bring Sean Connery back at any cost. They offered him a base salary of $1.25 million as well as 12.5% of the films profits. Sean donated the base salary to a Scottish education charity he founded, but it is estimated that he made over $4.5 million from his cut of the profits, making him the highest paid actor at the time.
After his brief return, Sean refused to commit to another James Bond film, and left the EON series forever, never to return. He did later play James Bond in the unofficial Kevin McClory film Never Say Never Again, and provided his voice and likeliness for a video game adaption of From Russia With Love. Sean reportedly turned down a £5 million offer to return for Live and Let Die, and Roger Moore became the new James Bond.
Roles in James Bond Movies
Trivia
Sean Connery was People Magazine's Sexiest Man Alive in 1989, at the age of 69
Sean received the American Film Institute (AFI) Life Achievement Award in 2006, celebrating his life long commitment to film. Sean was the 34th recipient.
He was knighted as Sir Sean Connery by Queen Elizabeth II in July 2000.
Sean donated his entire base salary (not including his percentage of gross revenues) from Diamonds Are Forever to his charity, the Scottish International Educational Trust.
Other Notable Roles/Movies
His first starring role, as Mark Trevor in Another Time, Another Place (1958)
His one film with Hitchcock, as Mark Rutland in Marnie (1964)
A Connery classic, as John Anderson in The Anderson Tapes (1971)
An important role, as Colonel Arbuthnot in Murder on the Orient Express (1974)
Alongside Michael Caine, as Daniel Dravot in The Man Who Would Be King (1975)
Great later role for Connery, as Captain Marko Ramius in The Hunt for Red October (1990)