James Bond Character - Angelo Palazzi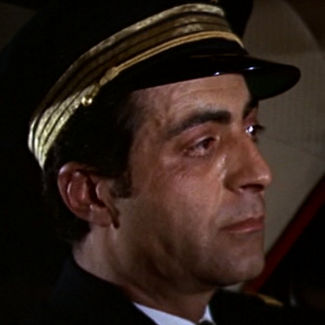 About
| | |
| --- | --- |
| Age | Mid 40s |
| Ethnicity | French |
| Role | Henchman |
| Status | Dead |
Summary
Angelo Palazzi was a henchman hired by SPECTRE to hijack a NATO test flight with two nuclear warheads. He spent two years undergoing facial surgery so that he could impersonate a NATO ambassador. Angelo tried to extort SPECTRE for more money, and was drowned in revenge.
The Character in the Film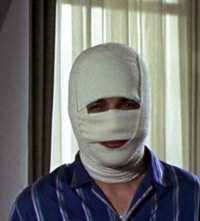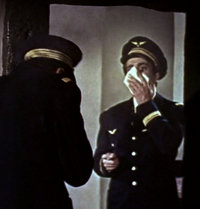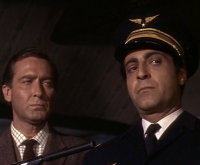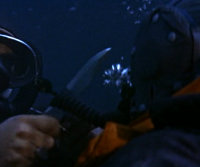 Angelo Palazzi was a henchman hired by SPECTRE agent Count Lippe to hijack two nuclear weapons from NATO. Angelo was paid well to undergo facial surgery that would alter his appearance to that of NATO ambassador Francois Derval. Derval was due to be a guest aboard the nuclear test flight, and the plan was for Angelo to take his place, impersonating Derval.
While resting from the surgery at the Shrublands health clinic, he is informed by Count Lippe that James Bond is also staying at the clinic. Bond had seen Lippe's red Tong tattoo, and had become suspicious. Angelo follows Bond around the clinic, and catches him breaking into Lippe's suite.
Angelo reports back to Count Lippe, who tries to kill Bond by turning his spine stretching traction machine up to full blast, while Bond is strapped in. Angelo recovers in time for the operation, and goes with Count Lippe to kill the NATO pilot he is to impersonate.
Angelo meets SPECTRE agent Fiona Volpe, who gives him some special breathing equipment to isolate him from the oxygen supply of the NATO plane. He can then inject poison gas into the plane's air supply, killing the rest of the crew. Fiona also gives him an envelope with $100,000 in cash, as a upfront payment.
| | |
| --- | --- |
| Angelo: | Not enough. $100,000 is not enough. |
| Fiona Volpe: | What are you trying to say? |
| Angelo: | I changed my mind |
| Angelo: | Two years of my life, studying the film, the reports, plastic operations, voice lessons. |
| Angelo: | Make it a quarter of a million, or get someone else. |
Angelo tries to extort them for more money, and is almost shot by Count Lippe. But Fiona decides to go ahead with the plan, and let the other SPECTRE agents deal with him after the flight.
Angelo passes the security checks at the NATO gate, and boards the flight. After they get into the air, he is offered to switch seats with the copilot to get a better view. He takes the chance to poison the air supply, killing the rest of the crew. He then changes the course of the plane and crash lands it into the sea so that SPECTRE agent Emilio Largo and his diving crew can steal the atomic bombs.
Angelo ejects the cockpit roof underwater, but his seatbelt jams and he can't get out of the seat. Largo dives down with scuba equipment and cuts his air pipe, suffocating Angelo to death in revenge for him trying to extort SPECTRE.