James Bond Director - Terence Young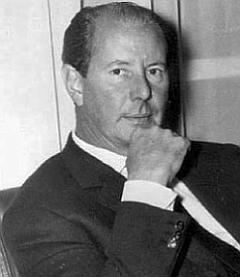 About
| | |
| --- | --- |
| Life | June 20th, 1915 - September 7th 1994 |
| Birthplace | Shanghai, China. |
| Place of Death | France |
| Cause of Death: | Heart Attack |
| Gender: | Male |
Summary
Terence Young was the first James Bond director. He directed Dr. No, From Russia with Love and Thunderball.
Biography
Terence Young is perhaps best known for being the first director of the legendary James Bond series. He was born in Shanghai, China in 1915, one year into WWI. He started his film career as a screenwriter in the 1930s, but not for long, as went into service as a paratrooper in WWII. After the war, even with a good reputation as a screenwriter, Terence decided the process was too slow and turned to directing where he could make films without worrying about the many tedious rewrites.
In his early career, he directed several films for future James Bond producer Albert R Broccoli, so he was an obvious choice for a James Bond director. He directed the first two films, Dr. No (1962) and From Russia with Love (1963) before bowing out to Guy Hamilton for Goldfinger (1964). Terence returned to direct his third and final Bond movie, Thunderball, in 1965. In his life time, Terence directed over 40 films, including two of his latest, Run for Your Life and The Jigsaw Man. He died of a heart attack at the age of 79.
Terence Young was often compared to James Bond, as he had many similar characteristics. He would wear expensive suits and change his shirt at least three times a day. Sometimes when he'd be lining up a shot, he'd click his fingers and be brought a bottle of Dom Perignon champagne. Young also made sure the rest of his crew only drank the best.
Bob Simmons, who worked as a stunt man on the series for over 25 years, recollected Terence Young in his autobiography:
A lovely man Terence. A gentleman. Whatever he does, he does it with style. In fact, he is my idea of what James Bond should be. Elegant in dress, urbane in manner, sophisticated, mischievous, a man of seasoned wit and courage.
During the filming of From Russia with Love, Terence was involved in a helicopter crash at sea and he nearly drowned. He was eventually rescued by other crew members, and to their amazement, he was back behind the camera a few minutes later, as calm as ever.
Terence was a key figure in the start of the James Bond series, because he imparted a suave and sophisticated style on the production, also positively affecting Sean Connery. Some of the crew have said that Connery was merely imitating Terence on set, but they both agreed that it worked.
Rest in Peace Terence, your contributions to the film world will forever be remembered.
James Bond Movies Directed
Dr No (1962)
From Russia with Love (1963)
Thunderball (1965)
Trivia
During pre-production, Terence used his own tailor to suit Sean Connery
Terence had sessions with Sean Connery, giving him tips on his style of walking among other things
Awards/Nominations
Nominated for the Golden Laurel award in 1967
Additional Images