James Bond Character - Paula Caplan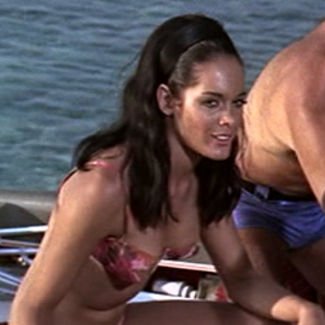 About
| | |
| --- | --- |
| Age | Mid 20s |
| Ethnicity | English |
| Role | Allie |
| Status | Dead |
Summary
Paula Caplan was Bond's assistant in Thunderball. She helped him in making contact with Bond girl Domino Derval, and other tasks in Nassau. She was eventually kidnapped by SPECTRE, and took a cyanide pill to avoid being tortured.
The Character in the Film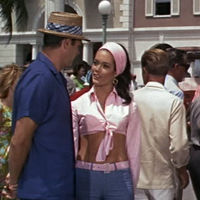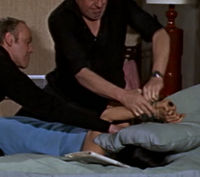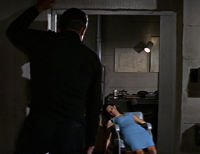 Paula Caplan was Bond's ally and assistant in Nassau. She first appeared when Bond was chatting up Domino Derval, the mistress of SPECTRE #2 Emilio Largo. Bond had been trying to get to know Domino, so that he could find out more about SPECTRE's activities, but he had been getting the cold shoulder. With Paula's help, he fained motor troubles and managed to get a lift in Domino's boat.
Paula rendezvous with Bond and Felix Leiter at the hideout of Pinder, the local representative of MI6. She then stays in the hotel to wait for him. SPECTRE henchwoman Fiona Volpe walks into the hotel room and surprises her.
| | |
| --- | --- |
| Paula: | Oh, hello. |
| Fiona Volpe: | Our Mr. Bond must have a very high opinion of himself. |
| Paula: | Opinion? |
| Fiona Volpe: | Yes, he has a date with me too. |
Just then, there is a knock at the door from the adjoining room, and Fiona smiles as Paula goes to answer it. Expecting Bond, Paula is surprised by SPECTRE agents Janni and Vargas, who kidnap her and take her to Largo's private Island.
Felix Leiter goes to the hotel to rendezvous with Paula, but finds that she has checked out. He heads out to find Bond, who orders a power cut to Largo's Island, so that he can try and rescue her.
Unfortunately, before Bond can save her, Paula commits suicide with a cyanide capsule, so that she won't give into the beatings and give the enemy information about Bond.