James Bond Actor - Guy Doleman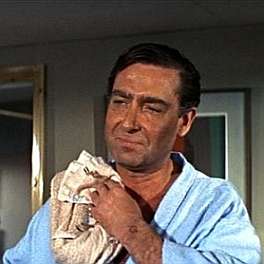 About
| | |
| --- | --- |
| Life | January 1st, 1923 - January 30th, 1996 |
| Birthplace | Hamilton, New Zealand |
| Place of Death | Los Angeles, USA |
| Cause of Death | Lung Cancer |
| Gender | Male |
Summary
Guy Doleman was a character actor best known among James Bond fans for his role as Count Lippe in Thunderball (1965).
Biography
Guy Doleman was a successful character actor who appeared in many British TV shows and movies. He begun his career in New Zealand as a radio announcer and stage actor before branching out into the field of screen acting. In the mid sixties, Guy gave an excellent performance as Colonel Ross in the film The Ipcress File. Based on the spy thriller by Len Deighton, the film starred Michael Caine, and was produced by James Bond co-producer Harry Saltzman. Guy also starred in the films two sequels, and contributed greatly to the trilogy's character.
In his lifetime, Guy worked alongside many other stars including Gregory Peck and, of course, Sean Connery in the James Bond film Thunderball (1965), playing SPECTRE agent Count Lippe. His TV appearances include shows such as The Avengers and Murder She Wrote. Guy even had a small part in the Alfred Hitchcock film Dial M for Murder, alongside Anthony Dawson, who played Professor Dent in Dr. No. Guy died of lung cancer in 1996, in Los Angeles, USA.
Roles in James Bond Movies
Thunderball (1965) as Count Lippe
Other Notable Roles/Movies
The Ipcress File (1965) as Colonel Ross
Funeral in Berlin (1966) as Colonel Ross
Billion Dollar Brain (1967) as Colonel Ross
The Deadly Bees (1966) as Ralph Hargrove
Additional Images