James Bond Movie - From Russia with Love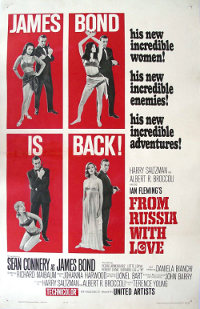 Info
| | |
| --- | --- |
| Release Date (UK) | October 10th, 1963 |
| Release Date (US) | April 8th, 1964 |
| Director | Terence Young |
| Film Number | 2 of 24 |
| Running Time | 115 Minutes |
| Previous Film | Dr. No |
| Next Film | Goldfinger |
Table of Contents
Regulars
Plot
Kronsteen, the head planner of SPECTRE, and a chess Grandmaster, devises a plan to steal the Lektor decoding machine from the Russians, while at the same time humiliating the British Secret Service and killing James Bond. He decides to use a beautiful girl to lure Bond into a trap.
Head of Executions, Rosa Klebb, is chosen to put the plan into action. She choses Tatiana Romanova, a Russian Cypher Clerk who works in the Soviet Consulate in Istanbul, and has access to the Lektor. Klebb fools her into thinking that she is working for the motherland, while Klebb has in fact just unknowingly defected from SMERSH.
Back in London, Bond is briefed by M, who has received a letter from Tatiana. She had offered the Lektor to Bond in exchange for his assistance in helping her defect to England. MI6 want to get there hands on the Lektor, so Bond is sent to Istanbul to meet Head of Station Kerim Bey.
Kerim's office is bombed the next day, so Bond goes with him to spy on the Soviet Consulate. Kerim realizes that the ruthless killer Krilencu is back in town, and takes Bond to a gypsy camp in the outskirts of town to stay out of danger. The camp is then attacked by Krilencu and the two track him down and assassinate him.
Bond returns to his hotel and finds Tatiana waiting in a bed for him. They arrange for the Tatiana to make a map of the Consulate, which is later confirmed by Kerim, who obtains the government plans. They steal the Lektor the next day and flee on the Orient Express, as insisted on by Tatiana.
They board the train OK, but at Belgrade station Red Grant, a SPECTRE killer, kills an MI6 agent and boards the train taking his identity. He meets with Bond, and drugs Tatiana over dinner. They go back to the compartment and Grant reveals his plan to kill Bond and steal the Lektor. Thanks to an Attache Case gadget from Q, Bond manages to turn the tables and kills Grant, taking his escape route with Tatiana to the local docks.
The two escape death by a SPECTRE helicopter, and then go out to sea to drive back to England. They are intercepted again by SPECTRE boats, but manage to blow them out of the water and sail away. Back in England, Bond is almost killed by Klebb who is disguised as a maid. Releasing she has been betrayed, Tatiana shoots Klebb and goes on a gondola ride with Bond as the camera zooms out of action.
Casting
Tatiana Romanova
Dr. No had exploded in the UK, and work on From Russia with Love had already begun by the time Dr. No reached cinemas in America. United Artists doubled the budget, as even if the film flopped, the profits from Dr. No would more than cover it. The producers were left with an enourmous challenge, they not only had match the brilliance of Dr. No, they had to surpass it. One of the first major tasks was finding an actress to play the Russian beauty Tatiana Romanova.
They interviewed over 200 actresses, and even enlisted the help of reporter Donald Zec, letting him sit in on the sessions. They failed to find anyone beautiful and elegant enough to play the part, and in February 1963, they sent out a press release looking for a 'voluptuous, young Gretta Garbo.' They eventually found Italian model Daniela Bianchi, and what a good choice they made.
Blofeld
In the credits of From Russia with Love Blofeld was credited with a question mark. Although little known at the time, it is now common knowledge between most 007 fans, that Blofeld was played by Anthony Dawson, who had played Professor Dent in Dr. No. He was voiced by Eric Pohlmann though, as Anthony's voice couldn't be use for obvious reasons.
Music
From Russia with Love was the first film in which composer John Barry was listed as the primary composer, even though he had also composed most of the music for Dr. No. The main theme was composed by Lionel Bart, who is best known for being the Author, Lyricist and Composer for the musical Oliver!, and was sung by Matt Monro.
With the all controversy over the authorship of the James Bond Theme, John Barry decided to write a new one for From Russia with Love. It has since become known as the '007 Theme', and is thought of as a secondary James Bond theme, as it has been used in many Bond movies, notably From Russia with Love, Thunderball, You Only Live Twice, Diamonds are Forever and Moonraker.
John Barry's Stalking track was used again in The Spy Who Loved Me, who's soundtrack was composed by Marvin Hamlisch, not Barry. The soundtrack for From Russia with Love was released on May 27, 1964, just after the US release of the film.
| Track # | Song | Author |
| --- | --- | --- |
| 1 | Opening Titles/James Bond Theme | John Barry |
| 2 | Tania Meets Klebb | John Barry |
| 3 | Meeting in St. Sophia | John Barry |
| 4 | The Golden Horn | John Barry |
| 5 | Girl Trouble | John Barry |
| 6 | Bond Meets Tania | John Barry |
| 7 | 007 | John Barry |
| 8 | Gypsy Camp | John Barry |
| 9 | Death of Grant | John Barry |
| 10 | From Russia with Love | Lionel Bart (composer), Matt Monro (singer) |
| 11 | Spectre Island | John Barry |
| 12 | Guitar Lament | John Barry |
| 13 | Man Overboard/SMERSH in Action | John Barry |
| 14 | James Bond with Bongos | John Barry |
| 15 | Stalking | John Barry |
| 16 | Leila Dances | John Barry |
| 17 | Death of Kerim | John Barry |
| 18 | 007 Takes the Lektor | John Barry |
Goofs
Every movie has a few interesting and sometimes funny mistakes, but most lists of movie goofs are full of duplicates, and pick apart the tiniest details, like a speck of dandruff disappearing between shots! Here we try to list the best of the bunch, short and sweet.
Crew Hand Visible

When Tatiana visits Klebb, Klebb pushes the door closed, and a crew members hand can be seen pulling the door shut.
The front of the flower truck is burnt by an explosion, yet is in perfect condition when they later drive to the shore. It also changes from a Dodge to a Chevrolet.
Near the end of the film, Blofeld's ring switchs hands when he presses the call button
Bond exits Istanbul Airport through the domestic terminal, despite arriving on an international flight.

Skids Reappear.

The skids are blown off the helicopter by the grenade, but are intact in the next shot.
When Bond examines the bridal room film right at the end of the movie, it is an 8mm reel. When he throws it in the river however, it is a 16mm reel.
When Kerim gets shot, he can be cleary seen rubbing fake blood on to his sleave.
Rosa Klebb used glasses with concave lenses for reading, which would have actually made things worse, as concave lenses are for farsightedness
Misconceptions
When Bond fires two flares near the end of the movie, some people claim he doesn't stop to reload. However, this is incorrect, as Bond is clearly seen running over to Tatiana to reload inbetween the shots.
After Bond shoots down the helicopter, some claim that his hat dissappears while still in the rocks. This is wrong, as he visibly knocks the hat off of his head as the explosion occurs. However, the hat does disappear and reappear after that event.
When Klebb walks through the training area, and then walks through what seems to be another area, it is actually the same place, albeit a little zoomed out. This is not a goof, but a creative director making better use of the available sets.
Box Office
| | |
| --- | --- |
| Opened in # Theatres | Unknown |
| Production Budget | $2 Million (~$17.2M with inflation) |
| Worldwide Gross | $78.9 Million (~$547.8M with inflation) |
Crew
Director
Terence Young
Editor
Peter Hunt
Producers
Albert R. "Cubby" Broccoli
Harry Saltzman
Writers
Ian Fleming (Original Novel)
Richard Maibaum (Screenplay)
Johanna Harwood (Adaptiony)
Musicians
John Barry
Production Designer
Ken Adam
Awards
Ted Moore won a BAFTA Award for Best British Cinematography (Colour) in 1964
Ted Moore won an award for Best Cinematography from the British Society of Cinematographers in 1963
John Barry, Lionel Bart and Monty Norman were nominated for a Best Song in a Motion Picture Golden Globe in 1965
From Russia with Love came in 2nd place for a Golden Laurel in the Action Drama category in 1965
Lotte Lenya came in 3rd place for a Golden Laurel for Supporting Performance, Female in 1965
From Russia with Love was nominated for a Golden Satellite Award for Best Classic DVD Release in 2004