James Bond Character - Domino Derval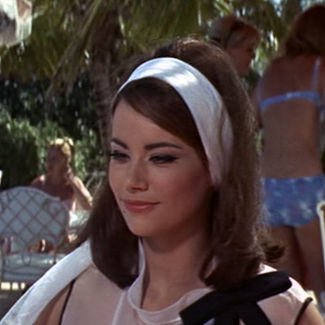 About
| | |
| --- | --- |
| Age | Early 20s |
| Ethnicity | French |
| Role | Bond Girl |
| Status | Alive |
Summary
Domino Derval was a Bond girl from Thunderball, and the mistress of SPECTRE agent Emilio Largo. Bond uses her to get information about the hijacking of two atomic bombs, and breaks it to her that Largo killed her brother.
The Character in the Film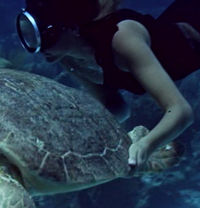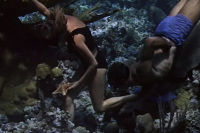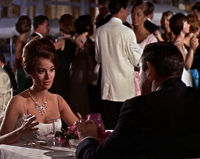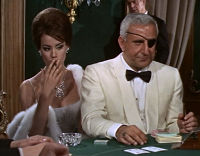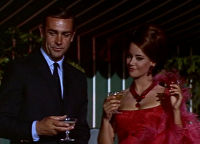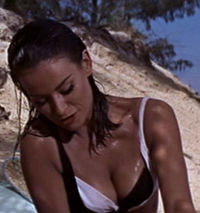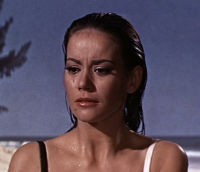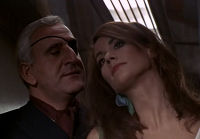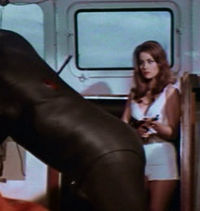 Domino Derval was the mistress of SPECTRE #2, Emilio Largo. Largo plotted an operation to kill her brother, NATO ambassador Francois Derval, so that henchman Angelo Palazzi could impersonate him and board a nuclear test flight. Angelo would then hijack the plane and deliver its contents, two atomic bombs, to Largo.
James Bond first heard about Domino during a briefing from M to all the double-0 agents in Europe. Bond had recognized her brother from a photograph, having seen him dead the night before at the Shrublands health clinic. He was sent to Nassau to investigate, where Domino was staying.
| | |
| --- | --- |
| | [Looking at a dossier photo of Domino] |
| Moneypenny: | Smashing figure. I don't suppose that has anything to do with your request... |
| Bond: | Was there ever a man more misunderstood. |
| | ... |
| | [Bond almost leaves without the photo] |
| Moneypenny: | James! How else will you recognize her. |
| Bond: | Couldn't miss. She has two moles on her left thigh! |
Bond arrives in Nassau and finds Domino snorkeling in a coral reef with a large turtle. She dives to pick up a star-fish and gets her flipper caught in the reef. Bond swims over and helps her out, giving himself an in to introduce himself.
| | |
| --- | --- |
| Bond: | Most girls just paddle around, you swim like a man. |
| Domino: | So do you. |
| Bond: | Well I've had quite a bit of practise. |
Domino initially gives him the cold shoulder, but Bond fains motor troubles, and Domino offers him a lift to the shore. They go for lunch and Bond discovers that she has been on the island for three weeks. Her "guardian" Emilio Largo arrives in his cruise boat and Domino leaves Bond to his con chowder.
She accompanies Largo to the casino, meeting Bond again at the Baccarat tables. Largo loses to Bond, and ignores Domino's request for a drink, allowing Bond to make the offer. Bond passes the shoe and takes Domino for dinner, complete with Beluga caviar and Dom Perignon. They dance, and Domino talks about her brother, who she still believes is alive.
She tells Bond that they are leaving Nassau in a day and a half, but the conversation gets cut off as Largo arrives. Largo invites Bond to dinner, saying that he wishes to be as good a loser as Bond is a winner. Bond accepts, and meets Domino again the next day.
Bond eventually stumbles upon the hijacked plane, finding it camouflaged underwater. He decides to meet with Domino again, to get more information about where the bombs might be. He goes to the reef where he first met her, and they scare the fish together.
Bond tells Domino that her brother was killed, and that it was Largo who had made the order. She cries, and agrees to help Bond find the bombs. He gives her a camera with a Geiger counter hidden in it.
Domino uses the camera and is caught by Largo when he hears the Geiger counter clicking. She is almost tortured by Largo, but he has to leave at the last minute to deal with the nuclear bombs.
| | |
| --- | --- |
| Largo: | You've given me much pleasure, Domino. But in return, unless you tell me how much Bond knows, I'll be forced to cause you great pain. This for heat, these for cold, applied scientifically and slowly. Very, very slowly. |
She manages to escape and finds Largo and Bond fighting. Largo eventually gets the upper hand, and holds a pistol, about to kill Bond. Just before he pulls the trigger, Domino shoots Largo in the back with a shark gun, avenging the death of her brother.