James Bond Character - Emilio Largo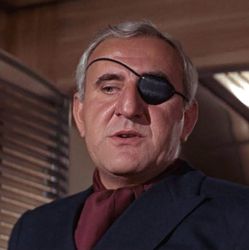 About
| | |
| --- | --- |
| Age | Mid 40s |
| Ethnicity | Italian |
| Role | Bond Villain |
| Status | Dead |
Summary
Emilio Largo was "Number 2", the second in command in the terrorist organization SPECTRE, behind leader Ernst Stavro Blofeld. He led a plot to steal two nuclear warheads from a NATO test flight, to hold Britain and the United States for ransom.
The Character in the Film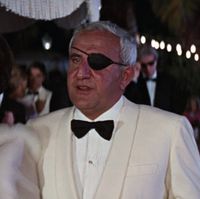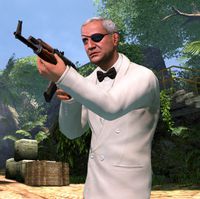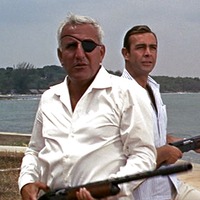 Emilio Largo is an original Ian Fleming character, having appeared in the 1961 novel Thunderball as the main villain. Largo was portrayed by Italian actor Adolfo Celi in the 1965 film adaption of Thunderball, and by Australian actor Klaus Brandauer in the 1983 remake, Never Say Never Again.
Largo was second in command in the terrorist organization SPECTRE, the SPecial Executive for Counter-intelligence, Terrorism, Revenge and Extortion. SPECTRE was led by Blofeld, who devised a plan to steal two nuclear bombs, and hold two countries for ransom, at the threat of destroying a major city in American and England. Largo was in charge of executing the plan, known as Operation Thunderball.
Largo paid henchman Angelo Palazzi to undergo plastic surgery to make him look like NATO pilot Francois Derval. Francois was then killed, and Angelo took his place on a nuclear test flight, crashing the plane in the sea, where largo took possession of the warheads. Largo killed Francois in cold blood, after he had tried to extort SPECTRE for more money.
Largo took the bombs aboard his yacht, the Disco Volante, and then hid them in an underwater cavern off the coast of his private Island, Palmyra. The island contained a large shark pool, in which Largo killed any of his men that failed to eliminate their targets.
| | |
| --- | --- |
| Emilio Largo: | You wish to put the evil eye on me, eh? We have a way to deal with that where I come from. |
| James Bond: | You may hex me. Let's see what it does for the cards. |
When Largo went to retrieve the bombs from the cavern, Bond took the place of one of his men. Largo noticed Bond, and an intense underwater battle ensued. Largo managed to escape to the Disco Volante, but Bond snook on board too. The two fought and Largo got the upper hand, about to kill Bond. Before he could, Domino Derval shot him in the back with a harpoon gun, avenging the death of her brother Angelo, the NATO pilot.