Top 10 James Bond Girls : Part 2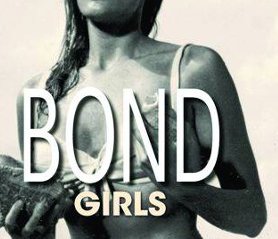 Summary
Bond girls are a glamorous and iconic part of the James Bond series. From the first shot of Ursula Andress in a white bikini in Dr. No, through to Olga Kurylenko's appearance as Camille Montes in Quantum of Solace, these girls have become members of one of the most exclusive groups in the film business.
Be sure to read Part 1 first!
#5

Vesper Lynd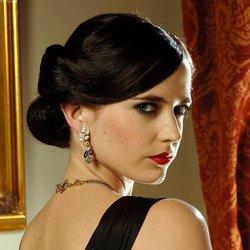 When Casino Royale was released in 2006, it was a welcome reboot of the series. Finally, 53 years after its publication, Casino Royale was given a proper treatment. It was the first Bond film in decades to make extensive use of an Ian Fleming story, something that greatly helped the introduction of Daniel Craig as 007.
Vesper Lynd was the first Bond girl of the novels, and one of Ian Flemings' stronger female characters. In a fantastic casting decision, French actress Eva Green was chosen to play Vesper in the film. Witty and deep, Eva lent a more natural beauty not usually associated with the role.
#4

Teresa Di Vicenzo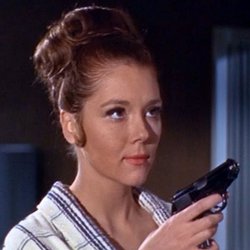 If there was ever a girl that James Bond really fell for, it has to have been Contessa Teresa di Vicenzo, later known as Tracy Bond, after their marriage. When Bond first meets her, he saves her from a suicide attempt, as Tracy tries to drown herself in the sea.
For the first time in the series, Bond gets caught up with some thugs, and the girl gets away. This was even made into a joke, as new actor George Lazenby quips, "This never happened to the other fellow", referring to Sean Connery. The two slowly fall in love throughout the film, and Tracy is tragically killed minutes after their marriage, by Bond's nemesis Blofeld.
Appearing in On Her Majesty's Secret Service, Tracy was played by English actress Diana Rigg, who like Honor Blackman, was also fresh of the set of The Avengers. Rigg and Lazenby shared some real chemistry on screen, and Tracy Bond was the Bond girl most true to her character from the Ian Fleming novels.
Tracy Bond is also the most referenced Bond girl in the series. She is mentioned explicitly by Anya Amasova in The Spy Who Loved Me, Bond visits her grave in For Your Eyes Only, Felix Leiter mentions her in Licence to Kill, and she is also subtly referenced in The World is Not Enough and Goldeneye.
#3

Jill Masterson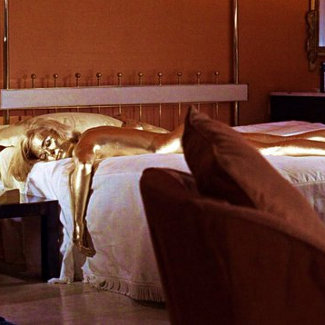 Shirley Eaton played the golden girl Jill Masterson in Goldfinger in 1964, and was one of the first throw away Bond girls. Bond breaks into Auric Goldfinger's hotel suite, and catches Masterson helping him cheat at cards by using binoculars and an earpiece. Bond seduces her and makes Goldfinger lose his money by threatening to call the beach police. All the time she is in her underwear.
To get his revenge, Goldfinger kills her and paints her entire body in gold paint. This image of the golden girl is one of the most memorable and iconic of the series, and Shirley Eaton was even featured on the cover of Life magazine.
#2

Tatiana Romanova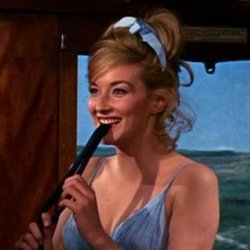 Played by Daniela Bianchi, Tatiana Romanova appeared in From Russia with Love in 1963. She was assigned a mission by Rosa Klebb, to lure James Bond into Instanbul so that he could steal a Lektor decoding machine. Klebb would then send henchman Red Grant to kill Bond and steal the machine after Bond had assumed all the risk. Of course, Tatiana isn't told the whole story, and believes she is working for the mothertland.
Bianchi was chosen out of over 200 interviewed actresses, after responding to an ad for a voluptuous, young Gretta Garbo. The scene where Tatiana first meets Bond, by climbing into his bed, is now used as a screentest for all potential James Bond actors.
#1

Honey Ryder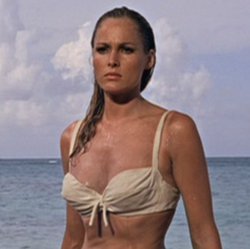 The original Bond girl is, to us, still the best. When Ursula Andress--playing Honey Ryder--stepped out of the sea in a white bikini, she set a standard for every Bond girl to follow. Complete with a hunting knife and sea shells, Honey Ryder may not be as iconic as the golden girl, but the scene still remains one of the most memorable of Dr. No, and the series as a whole.
From the first moment on the beach, until the final scenes of the film, with Bond and Honey drifting off into the sea in a boat with no fuel, Ursula Andress did justice to the character from the novel. Ian Fleming liked her so much that he mentioned her in his novel On Her Majesty's Secret Service.