James Bond Actress - Ursula Andress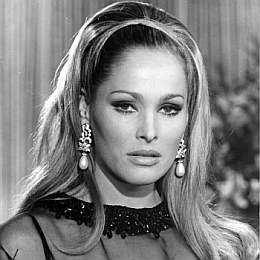 About
| | |
| --- | --- |
| Life | March 19th, 1936 - Current |
| Birthplace | Bern, Switzerland |
| Gender | Female |
Summary
Ursula Andress was born in Switzerland, but later moved to Rome, getting minor roles in Italian films. She then moved to America, and got the biggest break of her life, getting the role of leading Bond girl Honey Ryder in Dr. No in 1962. The iconic scene where she walks out of the sea in a white bikini has remained one of the most recognized scenes of the series.
Biography
Ursula Andress was born in Switzerland in March 1936. Her mother was half Swiss and Half Italian, and her father was a German diplomat who went missing during the war. She went on holiday to Rome, and after getting some work as an art model, she decided to venture into the film industry. She was given a few minor roles in low budget Italian films, and was later sent out to America to further her career. In 1957 she had a short-lived marriage to John Derek, who helped her out considerably, advising her on career moves. The advice was well taken and a few years later she was given the biggest break of her career.
In 1962, cinema audiences witnessed a beautiful women coming out of the sea, dressed in a white bikini, with a hunting knife on a small belt. Ursula was given the role of Honey Ryder, and was the first of a long line of 'Bond Girls'. The scene with the white bikini is perhaps the most famous and recognized scene in the history of motion pictures, and it launched Ursula into a successful career with actors including Frank Sinatra, Elvis Presley and Dean Martin.
Because of her heavy accent, her voice was dubbed in Dr. No. But five years later, she would appear in the James Bond spoof Casino Royale, with her real voice, playing Vesper Lynd. In her lifetime, Ursula has starred in nearly 50 films and TV shows, but she will be remembered worldwide for her role as Honey Ryder.
Roles in James Bond Movies
Trivia
Liking her performance in Dr. No, Ian Fleming made a reference to Ursula in his novel On Her Majesty's Secret Service
Ursula's Appearance in Dr. No was rated #1 in The 100 Greatest Sexy Moments survey conducted by Channel 4
Ursula was paid $10,000 for her role as Honey Ryder
Awards
Golden Globe award for Most Promising Newcomer - Female in 1964 for Dr. No
5th place for a Golden Laurel for Top Female New Face in 1964
Other Notable Roles/Movies
What's New, Pussycat (1965) as Rita
Casino Royale (1967) as Vesper Lynd