James Bond Movie - On Her Majesty's Secret Service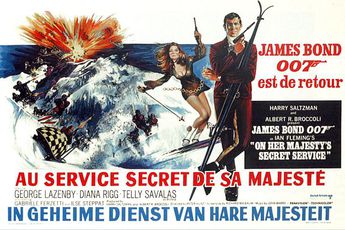 Info
| | |
| --- | --- |
| Release Date (UK) | December 18th, 1969 |
| Release Date (US) | December 18th, 1969 |
| Director | Peter Hunt |
| Film Number | 6 of 24 |
| Running Time | 140 Minutes |
| Previous Film | You Only Live Twice |
| Next Film | Diamonds Are Forever |
Cast
| Character | Actor |
| --- | --- |
| Tracy Di Vicenzo | Diana Rigg |
| Marc-Ange Draco | Gabriele Ferzetti |
| Irma Bunt | Ilse Steppat |
| Ruby Bartlett | Angela Scoular |
| Nancy | Catherine Schell |
| Shaun Campbell | Bernard Horsfall |
| Sir Hilary Bray | George Baker |
| Grunther | Yuri Borionko |
Regulars
Images
Plot
While driving in Portugal, James Bond is intrigued by a women who speeds past him in a car. A moment later he spots her empty car, and using a pair of binoculars, he sees her walking into the sea, attempting to drown herself. Bond drives down to save her, and is confronted by three men. The women manages to drive away before Bond can end the fight.
Bond returns to his hotel and sees the womens car again, finding out from the hotel staff that she is Contessa Teresa Di Vicenzo. The two meet at a baccarat table, where Teresa ("Tracy") is gambling with money she doesn't have. Bond pretends that they were gambling partners, and pays off her debt. Tracy invites Bond to her room, to thank him for saving her twice.
The next morning, Bond is kidnapped at gunpoint, and taken to the home of Marc-Ange Draco, the head of the Union Corse, the largest criminal organization in Europe. Draco reveals that he is Tracy's father, and offers Bond a million pound dowry for marrying his daughter. Bond declines the offer, but agrees to stay friendly with Tracy, if Draco will reveal the location of Ernst Stavro Blofeld.
Bond meets up with Draco and Tracy at Draco's birthday celebration, and Tracy forces her father to reveal the information on Blofeld, thinking that that is Bond's only interest. Tracy storms out crying, and Bond follows, telling her that he wasn't dating her just to get her fathers information.
Bond breaks into the lawyers office of a client he suspects to be Blofeld, and photocopies documents obtained from cracking the lawyers safe. He discovers that Blofeld is claiming to be a Count, and is seeking legal confirmation from the London College of Arms. In the photocopied letter, Blofeld's lawyer is requesting that genealogist Sir Hilary Bray take a visit to Blofeld's Swiss allergy research center to confirm is claim.
Bond goes to the College of Arms and asks for their assistance, so that Bond can go to Switzerland, posing as Hilary Bray. He convinces them to help him, and meets Blofeld's henchwomen Irma Bunt, who takes Bond by cable car to a secluded facility high up in the Swiss Alps. Bond tries to lure Blofeld out of Switzerland on the pretence of requiring Blofeld's presence in his family archives. Blofeld refuses, and Bond's identity is eventually revealed, when he gets caught sneaking into a girls room at night.
Bond is locked in the mechanical room of the cable car, but manages to escape, stealing some skis and making his way down the mountain. He meets Tracy at the bottom, at an ice rink, and drives to an old barn, to spend the night. Bond proposes to Tracy, and the two become engaged to be married. The next morning, Blofeld arrives at the barn, and the two try to escape by skiing through the hillside.
Before Tracy and Bond manage to escape, Blofeld sets of a flare, triggering an avalance that traps Tracy. Bond manages to get away, but Tracy is taken hostage by Blofeld, who tries to make her into his mistress. Using a small army of hypnotized girls from across the country, Blofeld plans to infect crops and animals, demanding a ransom from the government.
In the meantime, Bond goes back to M, who refuses to set up an operation to storm Piz Gloria. Bond calls Draco, and storms Blofelds facility with an aerial attack, pretending to be Red Cross rescue workers, so that they can get close enough to land. Draco dynamites the facility, and Bond escapes, pursuing Blofeld in a bobsled chase.
Bond escapes to safety, while Blofeld is left hanging from a tree branch, with an injured neck. Assuming Blofeld had died, Bond leaves for England, to prepare for his wedding. Tracy and Bond marry, and drive off in their Aston Martin. Bond decides that their are too many flowers attached to the car, and pulls over to remove them. While he is doing so, Blofeld drives by in a car, and shoots at them both, killing Tracy in the process. Bond holds her, and softly says "We have all the time in the world", reflecting on his prior hope that the two would be together forever.
Music
| Track # | Song | Author |
| --- | --- | --- |
| 1 | We Have All The Time In The World | Louis Armstrong |
| 2 | This Never Happened To the Other Fella | John Barry |
| 3 | Try | John Barry |
| 4 | Ski Chase | John Barry |
| 5 | Do You Know How Christmas Trees Are Grown | Nina |
| 6 | On Her Majesty's Secret Service | John Barry |
| 7 | Journey To Blofeld's Hideaway | John Barry |
| 8 | We Have All The Time In The World | John Barry |
| 9 | Over & Out | John Barry |
| 10 | Battle At Piz Gloria | John Barry |
| 11 | We Have All The Time In The World | John Barry |
| 12 | Journey To Draco's Hideaway | John Barry |
| 13 | Bond And Draco | John Barry |
| 14 | Gumbold's Safe | John Barry |
| 15 | Bond Settles In | John Barry |
| 16 | Bond Meets The Girls | John Barry |
| 17 | Dusk At Piz Gloria | John Barry |
| 18 | Sir Hillary's Night Out | John Barry |
| 19 | Blofeld's Plot | John Barry |
| 20 | Escape From Piz Gloria | John Barry |
| 21 | Bobsled Chase | John Barry |
Trivia
Ian Fleming was writing On Her Majesty's Secret Service while Dr No was being filmed, and he included a reference to Ursula Andress, who was filming her part as Honey Rider at the time.
George Lazenby's Rolex watch sold at auction for over $40,000
When Dianna Rigg was skating near the end of the film, a double was used, as Dianna cannot skate
At 140 minutes, On Her Majesty's Secret Service held the record for the longest Bond film for over 35 years, until the 2006 release of Casino Royale, which stood at 144 minutes.
When Bond threatens to resign and starts clearing out his desk, he grabs a few items out of his desk that are from prior 007 films. These include Honey Rider's knife from Dr. No, Red Grant's garrote watch from From Russia With Love, and Bond's rebreather from Thunderball.
Near the start of the film, Bond is attacked by three men, and Tracy drives away while Bond fights them. After winning the fight, George Lazenby says "This never happened to the other fellow", referring to the fact that Sean Connery never lost a girl after fighting.
Box Office
| | |
| --- | --- |
| Opened in # Theatres | Unknown |
| Production Budget | $7 Million (~$45.2M with inflation) |
| Worldwide Gross | $87.4 Million (~$513.4M with inflation) |
Crew
Director
Peter Hunt
Editor
John Glen
Producers
Albert R. "Cubby" Broccoli
Harry Saltzman
Writers
Ian Fleming (Original Novel)
Richard Maibaum (Screenplay)
Simon Raven (Aditional dialogue)
Musicians
John Barry
Production Designer
Syd Cain
Awards
George Lazenby was nominated for a Golden Globe for Most Promising Newcomer, Male in 1970.
The film was nominated for a Golden Satallite Award for Best Classic DVD Release in 2004, as part of a boxed set of James Bond films.