James Bond Movie - The Spy Who Loved Me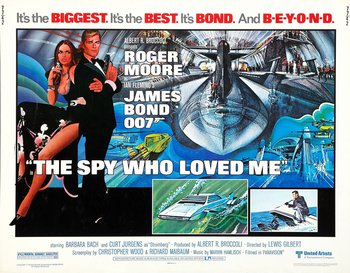 Info
| | |
| --- | --- |
| Release Date (UK) | July 7th, 1977 |
| Release Date (US) | July 13th, 1977 |
| Director | Lewis Gilbert |
| Film Number | 10 of 24 |
| Running Time | 125 Minutes |
| Previous Film | The Man with the Golden Gun |
| Next Film | Moonraker |
Cast
| Character | Actor |
| --- | --- |
| Anya Amasova | Barbara Bach |
| Karl Stromberg | Curt Jurgens |
| Jaws | Richard Kiel |
| General Gogol | Walter Gotell |
| Max Kalba | Vernon Dobtcheff |
| Captain Benson | George Baker |
Regulars
Plot
James Bond is enjoying some company in a log cabin in Austria, when he is called away to a mission. Skiing his way down the mountain, Bond is chased by Soviet agents, and has to jump over the edge of the cliff to escape, after killing of one the Russians. His parachute opens to reveal a union jack, just as the theme song Nobody Does It Better begins playing.
Bond's mission is to investigate the theft and disappearance of British and Russian submarines. His first lead is an auction of leaked microfilm plans for the positions of British submarines, by rich businessman Max Kalber. While there, Bond meets Soviet agent Anya "XXX" Amasova, who is also bidding for the microfilm. Before the bidding war begins, Kalber leaves to take a phone call.
When Bond goes to find him, he discovers him dead, and follows his killer, henchman Jaws. Bond sneaks into the back of Jaws' van, and is joined by Triple X just before they're driven off. Jaws drives into an Egyptian temple, and tries to kill the two spies, having being aware of their passage in his van.
His attempts are unsuccessful, and Bond and Amasova manage to steal the van and drive away to safety. There is tension between the two spies, but M, and Amasova's boss General Gogol force the two to co-operate, to ease relations between their two countries.
They track the submarine thefts back to Karl Stromberg, a rich owner of a large shipping firm. During their pursuit, Amasova is again attacked by Jaws, but Bond saves her life, easing tensions between the pair. Jaws doesn't give in, and the two endure enemy fire from a helicopter chase. They escape in Bond's Lotus Espirit, that has been modified by Q Branch to double as a mini submarine.
The two escape to safety, but Amasova learns that the Soviet agent that Bond killed in Austria was in fact her boyfriend. She swears to kill Bond after the mission is over, to avenge the death, despite Bond's explanation of the circumstances.
Bond joins an American submarine crew to survey Stromberg's Atlantis hideout, but the submarine is hijacked by Stromberg's huge hollowed out tanker. The crew is imprisoned and Stromberg reveals his plans to destroy New York city and Moscow with nuclear weapons, starting a war between the two nations.
Bond manages to escape, and frees the American crews, as well as the British and Russian crews that had been captured at the start of the film. Breaking into Stromberg's weapon stores, the crews take rifles and grenades and kill the majority of Stromberg's guards. The remaining villains hide in the tanker's control room, sealed behind thick armoured walls.
Undeterred, Bond takes the detonation device out of a nuclear warhead, and blows a hole in the control room, taking full control of the tanker. Bond then rescues Amasova and stops the nuclear bombs on route, reprogramming their paths. Bond kills Stromberg, leaves Jaws swimming with the sharks, and escapes in Stromberg's luxury escape pod. The mission complete, Amasova pulls out a gun, aims it at Bond and shoots... past him at the bottle of Champagne, forgiving him for her boyfriend's death.
Music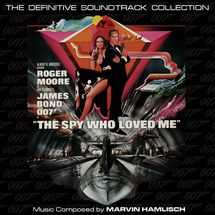 | Track # | Song | Author |
| --- | --- | --- |
| 1 | Nobody Does It Better | Carly Simon |
| 2 | Bond 77 | John Barry |
| 3 | Ride To Atlantis | John Barry |
| 4 | Mojave Club | John Barry |
| 5 | Nobody Does It Better (Instrumental) | John Barry |
| 6 | Anya | John Barry |
| 7 | The Tanker | John Barry |
| 8 | The Pyramids | John Barry |
| 9 | Eastern Lights | John Barry |
| 10 | Conclusion | John Barry |
| 11 | End Titles | Carly Simon |
Trivia
New character General Gogol, who would go on to become a series regular, was played by Walter Gotell, who had previously played Morenzy in From Russia With Love.
The credits claimed James Bond would return for For Your Eyes Only, but the producers chose to produce Moonraker instead, to take advantage of the Star Wars explosion.
M's first name, Miles, is revealed in the film, and is in fact the only mention in the series.
Lotus, Seiko, Sony, Ford and Bacardi all had product placements in the film.
Bond author Ian Fleming requested that the story from the novel never be made into a film, so The Spy Who Loved Me was the first entirly original script.
The film was later novelised by Christopher Wood. The title was changed to James Bond, The Spy Who Loved Me to differentiate it from Ian Fleming's novel.
The Spy Who Loved Me was reportedly producer Cubby Broccoli's third favourite Bond film, behind Goldfinger and From Russia With Love.
Box Office
| | |
| --- | --- |
| Production Budget | $14 Million (~$71.2M with inflation) |
| Worldwide Gross | $185.4 Million (~$692.7M with inflation) |
Crew
Director
Lewis Gilbert
Editor
John Glen
Producer
Albert R. "Cubby" Broccoli
Writers
Ian Fleming (Character)
Richard Maibaum (Screenplay)
Music
Marvin Hamlisch
Awards
Ken Adam, Peter Lamont and Hugh Scaife were nominated for an Academy Award for Best Art Direction in 1978.
Marvin Hamlisch was nominated for an Academy Award for Best Original Score and Best Original Song alongside lyric writer Carole Bayer Sager.
Ken Adam was nominated for a BAFTA award for Best Production Design in 1978.
The Spy Who Loved Me won a Golden Screen award in 1978.