James Bond Actor - Daniel Craig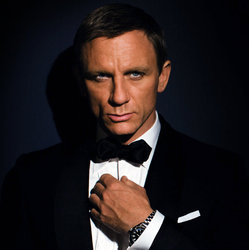 About
| | |
| --- | --- |
| Life | March 2nd, 1968 - Present |
| Birthplace | Chester, Cheshire, England |
| Gender | Male |
Summary
Daniel Craig was born in Northwest England and became interested in acting at an early age. He attended the Guildhall School of Music and Drama, which led to many film and TV roles. He worked his reputation up and it payed off. On October 25th, 2005 Daniel Craig became the 6th official James Bond!
Biography
Introduction
Daniel Craig was born in Chester in Northwest England. His mother Olivia was an art teacher, and his father Timothy was a merchant in the navy and later a landlord. Daniel's parents split up when he was 4 and he was moved to Liverpool with his mother and older sister Lea. Olivia often took Daniel to the theatre, which greatly influenced his career choice. When he moved to Hoylake, his academic interest dropped. He was much more focused on acting than with school, and he dropped out at the age of 16 and moved to London.
The Start of a Successful Career
His mother sent him down to the National Youth Theatre for an audition to Troilus And Cressida was one, where he got the part of Agamemnon. He was later accepted to the Guildhall School of Music and Drama, which he attended from 1988 to 1991. His first appearance on the silver screen was as a minor character in The Power of One in 1992. He also made many minor guest appearances in TV shows, but didn't get a major leading role until 1996, where he played Geordie Peacock in the Our Friends in the North TV series.
Daniel was offered a role in the 2001 blockbuster Tomb Raider, starring as Lara Croft (Angelina Jolie)'s rival Alex West. This was his first major exposure to international audiences. He went onto star in other films such as The Mother and Sylvia, both in 2002. Probably his biggest success prior to James Bond, was his role in Steven Spielberg's Munich, a film about a real 1972 massacre of Olympic athletes. He starred in a few other successful films, but nothing that would compare to his next role...
The Name's Bond, James Bond
In early 2005, rumours were spreading about who the next James Bond would be and Daniel Craig was on all the lists. In April 2005, it was rumoured that Daniel had signed a contract, but that was incorrect. It was in fact six months later, on October 25th, that Daniel signed a three movie contract with them.
The hiring was extremely controversial, with many so-called fans attempting to boycott the upcoming film, hating the "blond-bond", even going as far as creating websites against him. It should be noted however that the websites against him were poorly made, while the sites supporting him were professional in both design and content.
Daniel continued to endure a bad reception, so much so that previous Bond actors Sean Connery, Roger Moore, Timothy Dalton and Pierce Brosnan all came forward to express their support for him. When Casino Royale was released on November 14th, 2006, the publics opinion of him changed drastically, and both the film and Daniel Craig became instant hits.
Daniel returned for his second outing as Bond in 2008's Quantum of Solace, which was one of the highest grossing Bond films in America to date. He is currently filming for the upcoming "Bond 23" film, Skyfall, which is being directed by Sam Mendes, and is slated for release in late 2012.
Roles in James Bond Movies
Images



Trivia
Daniel is the only Bond actor that was born after the release of the first film Dr. No
Daniel is also the only Bond actor to have been hired after the death of legendary producer Cubby Broccoli
Casino Royale is the 5th best selling Bond film of all time