Top 10 James Bond Movies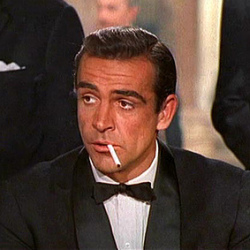 Summary
Many people have their own views on who the best James Bond actor is and what the best Bond movies are, and there are many articles written on the subject. Well, here's my take on the matter.
My favourite 007 actor is without a doubt Sean Connery, and in general, I prefer older movies, so you'll probably notice my bias in the article.
#10

For your Eyes Only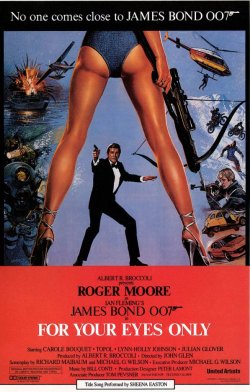 Released in 1981, For your Eyes Only was Roger Moore's fifth movie as James Bond. It marked the introduction of director John Glen, and subsequently, a turning point in the series. John introduced a more serious side of Bond, and offered more realism, leaning away from the comical space escapades of Moonraker.
For Your Eyes Only showcased excellent locations, a great cast, and an engaging storyline. It also had a hilarious and entertaining car chase, skiing scenes (I'm always a fan of those!), and some great underwater visuals. John Glen did an amazing job, and it was definitely one of his best movies.
It was very difficult to filter out the last few candidates, and pick a solid movie for position 10, but I feel I made a good choice.
#9

Thunderball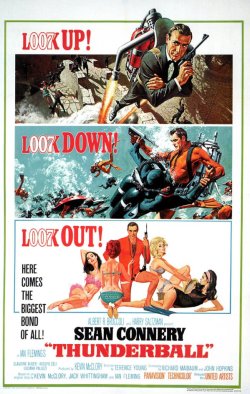 Now some may find it surprising, and it partially surprises me, that Thunderball is so low in the list. It probably deserves to be higher, but I decided to lower my Sean Connery bias, and switch things around a little bit.
Thunderball was Connery's fourth entry in the series, and if we're including inflation, it is the highest grossing James Bond movie of all time, earing over $1 billion US! Now that is an achievement in itself.
Thunderball had breath taking high quality underwater scenes, which at the time were unheard of. It also showcased a real working Jet Pack, one of Bond's most iconic gadgets. These, along with a great cast and storyline, put Thunderball in 9th place.
#8

The Living Daylights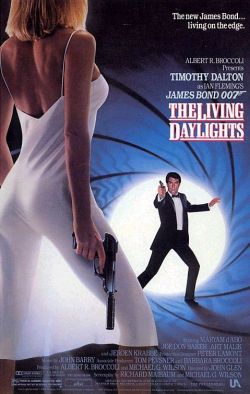 No top 10 list would be complete without a mention of Timothy Dalton. The Living Daylights, released in 1987, was Dalton's first time as Bond, and definitely his best.
The Living Daylights marked the beginning of a new era, with a new James Bond, and the departure of the much loved Lois Maxwell, who had played Miss Moneypenny in the prior 14 movies. It also marked the end of another Era, as it would turn out to be composer John Barry's last work with Bond. Barry went out with a bang though, producing his best soundtrack of the decade.
Although many people would argue, I think Dalton made a great 007. He was funny and charismatic, as well as being tough and gritty. The movie also featured a respectful leading lady, instead of the usual through away flirt, which was a nice change.
The Living Daylights was a spectacular film. It mixed seriousness with touches of comedy (cello race anyone?), and had a perfect mix of action scenes and storyline. It also features my favourite car in the entire series, a beauty that could perhaps only be surpassed by Connery's Aston Martin DB5.
#7

Live and Let Die
I was having trouble deciding the order of #6 and #7, but suffice to say, Live and Let Die is definitely tied for the best Roger Moore movie.
Live and Let Die came with a spectacular cast, Jane Seymour was a brilliant Bond girl and Mr. Big/Kananga was an even better villain! They even made a great reference to Dr. No by creating the character Quarrel Junior.
But what really made this movie, was its style. The soundtrack, the white pimpsmobile, the turning booth, the abundance of Mr. Big's "black muscle", the Taro cards, Kananga's anti-surveillance techniques, Bond's scene at the gift-shop. Live and Let Die was packed full of great scenes that reminded me of the time Bond put a hair across the closet door in Dr. No.
#6

The Spy Who Loved Me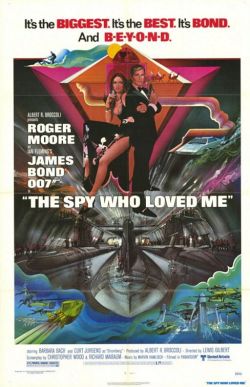 The Spy Who Loved Me was released in 1977, and was Roger Moore's 3rd appearance as James Bond. The movie featured another masterpiece Ken Adam set design, great music, and a great cast.
I didn't think much of Stromberg to be honest, but Barbara Bach made an excellent appearance as Anya Amasova. And then there's Jaws. And that really does deserve a dramatic pause.
Jaws was one of the few larger than life and iconic character in the series, that could only be matched by Oddjob. Although he made another appearance in Moonraker, his debut here was much better.
Overall, The Spy Who Loved Me was a superb movie. It had a great style, and an engaging tension between the leading characters. The atmosphere was also a highpoint, especially at the pyramids. And of course, noone can forgot the battle at the end of the movie, which really takes you back to the days of You Only Live Twice
Continue to Part 2 »