James Bond Director - John Glen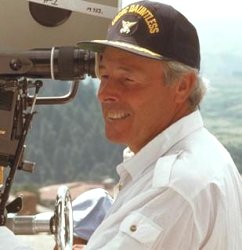 About
| | |
| --- | --- |
| Life | May 15th, 1932 - Current |
| Birthplace | Sunbury-on-Thames, England |
| Gender | Male |
Summary
John Glen is a British director and editor, who directed 5 James Bond movies including: For Your Eyes Only (1981), Octopussy (1983), A View to a Kill (1985), The Living Daylights (1987) and License to Kill (1989). He was also the editor and 2nd unit director for On Her Majesty's Secret Service, The Spy Who Loved Me and Moonraker.
Table Of Contents
Biography
John Glen was born in 1932 in Sunbury-on-Thames, a suburb of London in South East England. He lived there with his parents and two sisters Margaret and Joyce. In 1939 when John was seven, his family heard the declaration of war on the radio, and the next day they constructed a makeshift air raid shelter. Although he lived in a quiet suburb, there were many raids on his area. John heard the first V2 rocket to ever hit British soil, come crashing down five miles away from his school, and subsequent attacks destroyed a pub, his school and even a house opposite from his.
Through all the tragedy that occurred around him, John has said that he felt no fear during the war, which is good because it must be horrible to live a life in constant terror.
Messenger Boy: His start in the movie business
In 1945, after the war had ended, John joined the Sea Cadets and met a guy who worked as a messenger boy at a local film studio. He mentioned that he was moving into a different department and that there would be a vacancy, so John went down to Nettleford Studio's and enquired about the job. Unfortunately, John was too tall for the uniform, but he was referred to Shepperton Studio's where he later got a job.
Being a messenger boy, John got to see how movies were made, and learned about all the different sections in the studio. While there, he was allowed to use a friend's tools in the woodwork department and developed an interest and some skills in carpentry. The section that most interested him however, was the editing section.
The Editing Department: An Interest in Editing
He started helping out in the editing rooms and was soon promoted to that section, where he started out by disposing of flammable nitrate film. He later moved up and learned how to number and splice film. Three years after first joining the studio, he was promoted to second assistant editor
When John turned 18, he had to leave the studio for his compulsory service in the RAF, where he stayed for two years. His mother had passed on several job offers and John was allowed to leave the RAF two weeks early to accept a job at Nettleford Studios as Second Assistant Editor.
In 1953, he started working for Group 3 as assistant editor, also doing a lot of sound editing. In 1956, John returned to Shepperton where he received his first on screen credit as sound editor for The Green Man. After he had finished working on The Green Man, John got married to his fiancee Gina, but unfortunately had to cancel the honeymoon on account of his new job on Three men in a boat, where he devised some great new techniques in sound editing.
John went on to work on many other movies at many different studio's and during the production of The Admirable Crichton, he became good friends with Peter Hunt (James Bond Editor/Director).
Moving into TV: A start at second unit directing
Near the end of the 1950's, the movie business was going through a drab period and John was out of work with a family to support. In 1960 however, John got a break and earned his first credit as Editor on the TV show Chemistry for sixth forms. After that, he worked as one of two editors for the show Man of the World. To stay on schedule, he was asked to film several close up shots of people opening doors and such like.
He went on to do some more second unit directing, filming minor action sequences. He learned how to shoot sequences like car run-bys very well. In 1964, John joined the team of editors on the spy-oriented show Danger Man, where he did more second unit work and got to film some slightly bigger sequences when things were behind schedule.
When John went to work on the show Man in a Suitcase, he got another promotion to supervising editor (meaning that he supervised the team of editors). John asked if he could direct an episode and soon after got his first directing credit for the episode Somebody Loses, Somebody... Wins?. Unfortunately he got behind schedule and felt he wasn't quite ready for directing.
His start in the James Bond Crew
After eight years of TV John went back into movies, doing sound editing. One of the movies he worked on was the great classic The Italian Job with Michael Caine. During his work on the Italian Job he got a call from Peter Hunt, who asked him to go down to Pinewood Studio's. John later got a job as editor and second unit director on On her Majesty's Secret Service.
During his time on OHMSS, John directed/shot some of the movies best scenes including the bobsleigh and avalanche scenes. Below are some images from those scenes.









Moving onto other things
After On Her Majesty's Secret Service was released, Peter Hunt wanted to move onto other things and Guy Hamilton was brought in to direct Diamonds are Forever. Guy brought his own editor and didn't like to use a 2nd unit director, so John moved on to other things, becoming the co-editor and 2nd unit director for the movie Murphy's War. He later went to join Peter Hunt on the western Catlow, but Peter fell out with the producer and left John with the new director Sam Wanamaker.
After he finished Catlow in 1971, he went on to edit Pulp, starring Michael Caine and later Sitting target starring Jill St. John and Oliver Reed. In 1973 he edited A Doll's house and in '74, he worked for the first time with Roger Moore as 2nd unit director and editor for the movie Gold. In 1976 John met up with both Peter Hunt and Roger Moore for Shout at the Devil and in 1978, he was the 2nd unit director for Superman
Back into Bond
John met Lewis Gilbert when he edited Seven Nights in Japan in 1976. Lewis revealed that Cubby Broccoli had offered him a chance to direct the next movie The Spy Who Loved Me. He said that Cubby had been impressed with John's work on OHMSS and wanted him to join the Bond team again. Soon after, John became the editor and was also appointed the duty of shooting the pre-title sequence.
In the pre-titles of The Spy Who Loved Me, Bond is chased by men on skis. To escape, he jumps off the side of a mountain and opens a parachute with a Union Jack on. John directed this scene, which was actually skier Rick Sylvester jumping off Mount Asgard in northern Canada. He spent three weeks there, setting up and waiting for a good time to shoot. It was worth the trouble however, as the jump became one of the most memorable scenes in James Bond history.
John went on to work on Moonraker and was again assigned the job of directing the pre-title sequence as well as editing the movie. In the pre-titles, Bond is on a plane when the pilot disables the controls and jumps out. The pilot is soon joined as Jaws pushes Bond out of the plane without a parachute. Bond catches up with the pilot, steals his parachute in mid-air and lands safely. John directed this sequence, which took place in California and required a total of 88 jumps. As expected, it turned out magnificently.
Another step up: A start in Directing
John was invited to have lunch with Cubby Broccoli and several others to discuss the next movie For Your Eyes Only. The following day, he was invited to another lunch, and after retiring to Cubby's office, John was asked if he would direct the next movie.
John had decided that he wanted to pull the Bond movies back to the style of the Ian Fleming novels. Moonraker had had a rather comical feel to it with Jaws' girlfriend and other things. For Your Eyes Only took the series in a more serious direction and turned out to be a successful movie full of mind blowing scenes and an excellent cast!
During post-production of For Your Eyes Only, John was offered the chance to direct the next movie Octopussy. Octopussy retained the style of the previous movie and brought back Maud Adams who had previously played the main Bond girl in The Man with the Golden Gun. Octopussy featured some amazing stunts and lots of exotic locations and sequences.
John then moved on to direct A View to a Kill which was both Roger Moore's and Lois Maxwell's last appearance in the James Bond series. A View to a Kill starred Christopher Walken, Grace Jones, Tanya Roberts and Patrick Macnee. The movie was a hit and John was asked to direct another one. On previous occasions, John had had to assist in looking for a new Bond, only to discover that Roger had agreed to come back. This didn't happen for A View to a Kill however and the search for a new Bond began.
A New Bond: Introducing Timothy Dalton
John assisted in the screen testing of many actors, but didn't find a suitable candidate until that is, they tested Pierce Brosnan. At the last minute however, Remington Steele was renewed for another season and Pierce became unavailable. They asked Timothy Dalton, who had refused to play Bond several years prior because of his age, to star in the new movie. He accepted, and the hunt for a new 007 was over.
With John Glen's superb directing and Timothy Dalton's outstanding portrayal of James Bond, 1987's The Living Daylights became a great success, establishing a new era of 007. Timothy returned for License to Kill in 1989, starring with Carey Lowell (Pam Bouvier), Robert Davi (Franz Sanchez) and Talisa Soto (Lupe Lamora). The two movies had great plots, an amazing group of supporting actors and a skilled crew. This, combined with Timothy Dalton's realistic and accurate Portrayal of James Bond, made them well regarded among fans.
Life After Bond
The violence in The Living Daylights, especially the ending where Sanchez is burned to death, earned the film a 15 rating in the UK. Because of this, children couldn't watch the movie, resulting in an all time low of 39 million ticket sales. Cubby Broccoli broke the bad news to John, that MGM/UA wanted a new director for the next film.
John moved on to other things, but found that many people discredited him for his work on the Bond films, thinking that they were pure money-making ventures. He did manage to get some work however, and directed the pilot for a new American show called Checkered Flag. The show didn't make it, but the pilot was later turned into a movie. John then moved onto to direct Aces: Iron Eagle III, a movie about drug running within the American Air Force and then Columbus: The Discovery in 1992.
John is still in the film industry today. Some of his latest projects include directing 8 episodes of Space Precinct in the mid 90's, and The Point Men which was released in 2001. John Glen made an outstanding contribution to the James Bond Series, and his unique style will be missed by many.
James Bond Credits
Editor and 2nd Unit Director for On Her Majesty's Secret Service (1969)
Editor and Co-2nd Unit Director for The Spy Who Loved Me (1977)
Editor and Co-2nd Unit Director for Moonraker (1979)
Director for For Your Eyes Only (1981)
Director for Octopussy (1983)
Director for A View To A Kill (1985)
Director for The Living Daylights (1987)
Director for License To Kill (1989)
Other Notable Credits
Director for Aces: Iron Eagle III (1992)
Sound Editor and (uncredited) 2nd Unit Director for The Italian Job (1969)
2nd Unit Director for Gold (1974)
Trivia
John Glen directed every Bond film released in the 1980's
John holds the record for directing the most James Bond films, with a total of 5
John likes to include the local animals and wildlife in his films