Thunderball Gadget - Jet Pack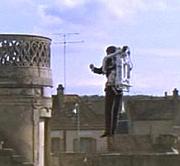 About
| | |
| --- | --- |
| Name | Bell rocket belt |
| Appeared in | Thunderball (1965) |
| Approx Height | 0.9m |
| Approx Width | 0.5m |
| Approx Weight | 125lbs |
Summary
James Bond used the Jetpack in 1965's Thunderball, to escape from gunmen after killing a SPECTRE agent.
The Jetpack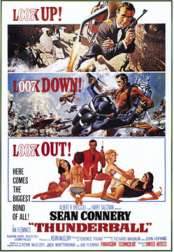 In the 1965 movie Thunderball, James Bond (Sean Connery) uses Q's Jetpack to escape from two gunmen after killing Jacques Bouvar, SPECTRE Agent No. 6. It was also used in the Thunderball movie posters, being the "Look Up" part of the "Look Up! Look Down! Look Out!" tagline. The Jetpack returned in the 2002 movie Die Another Day, in the Q scene that showcased many other classic gadgets. The Jetpack is a very popular Bond gadget and is a favorite among many fans due to its originality and uniqueness.
The Bell Rocket Belt
The Jetpack is actually a Bell Rocket Belt, a fully functional rocket pack device. It was designed for use in the army, but was rejected because of its short flying time of 21-22 seconds. Powered by hydrogen peroxide, it could fly about 250m and reach a maximum altitude of 18m, going 55km/h. Despite its impracticality in the real world, the Jetpack made a spectacular debut in Thunderball. Although Sean Connery is seen in the takeoff and landings, the main flight was piloted by Gordon Yeager and Bill Suitor.
Additional Images