James Bond Movie - Live And Let Die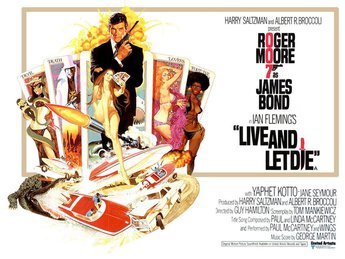 Info
Cast
| Character | Actor |
| --- | --- |
| Kananga/Mr. Big | Yaphet Kotto |
| Solitaire | Jane Seymour |
| Rosie Carver | Gloria Hendry |
| Sherrif J.W. Pepper | Clifton James |
| Baron Samedi | Geoffrey Holder |
| Tee Hee | Julius Harris |
| Whisper | Earl Jolly Brown |
| Quarrel Jr. | Roy Stewart |
Regulars
Plot
Three MI6 agents are killed in a short succession, one on San Monique Island in the Caribbean, one in a funeral procession in New Orleans and another in New York. They were known to be monitoring Dr. Kananga, the dictator of Sam Monique, in co-operation with the CIA.
James Bond is sent to New York to investigate Kananga, who is in a meeting at the United Nations. Bond takes a cab from the airport, but his driver is assassinated on a busy motorway, and Bond is nearly killed. He ends up bringing the car to a stop, causing a lot of damage, much to the chagrin of Felix Leiter, Bond's friend in the CIA.
Bond tails the assassin, who drives an easy-to-spot white pimps mobile, to a Fillet Of Soul restaurant. He orders a drink and sits down at a trick booth, that spins around into the wall, leading him into a room where he is held at gunpoint by some gangsters. He strolls around and meets a girl named Solitaire, a virgin tarot reader who can predict the future and see remote events in the present.
Bond is then confronted by Mr. Big, a known gangster who "controls most of the black muscle in the city". Mr. Big tells his henchmen to waste Bond, and goes back to his business. Bond manages to escape unscathed, just as a CIA agent comes to help him.
Bond goes to the Caribbean to keep on the Kananga's tail, and discovers CIA agent Rosie Carver. The two of them visit San Monique Island, and Bond discovers that Rosie is a double agent, working for Kananga. Rosie tries to run away, but is murdered by Kananga, who fears she may give away his secrets.
Bond escapes the island, returning later in a hang glider, with the assistance of Quarrel Jr., the implied son of Quarrel from Dr.No. Bond sneaks into Kananga's lair, and finds Solitaire. He gets her to pick a card at random from a deck of 52 tarot cards that are all "The Lovers", tricking her into believing that they are meant to be together.
Bond then takes Solitaire's virginity, causing her to lose her fortune-telling powers. She fears for her life, knowing that Kananga will discover what has happened, and is forced to co-operate with Bond.
She escapes with Bond through some poppy fields, discovering that Kananga is running a heroin racket. They head to New Orleans, but they are captured by Mr. Big's henchmen before they arrive. Bond confronts Mr. Big, who reveals himself to be Kananga in disguise.
Mr. Big's henchman Tee-Hee takes Bond to a crocodile farm where the heroin is processed and packaged, and is left on a small island in the middle of a crocodile pond to be eaten alive. He manages to escape, jumping over a row of crocodiles backs, and sets the farmhouse on fire.
Bond returns to Kananga's lair, rescues Solitaire, and kills Kananga with an explosive shark bullet. Bond and Solitaire take a leisurely train ride home, but Tee-Hee surprises Bond and attempts to kill him. Bond manages to throw Tee-Hee out of the window, and he and Solitaire finally get some peace.
Music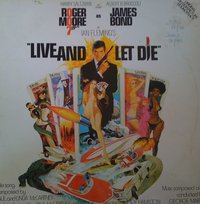 | Track # | Song | Author |
| --- | --- | --- |
| 1 | Live And Let Die (Main Title) | Paul and Linda McCartney |
| 2 | Just A Closer Walk With Thee | Milton Batiste |
| 3 | Bond Meets Solitaire | George Martin |
| 4 | Whisper Who Dares | George Martin |
| 5 | Snakes Alive | George Martin |
| 6 | Baron Samedi's Dance Of Death | George Martin |
| 7 | San Monique | George Martin |
| 8 | Fillet Of Sou-New Orleans | B. J. Arnau |
| 9 | Bond Drops In | George Martin |
| 10 | If He Finds It, Kill Him | George Martin |
| 11 | Trespassers Will Be Eaten | George Martin |
| 12 | Solitaire Gets Her Cards | George Martin |
| 13 | Sacrifice | George Martin |
| 14 | James Bond Theme | Monty Norman |
| 15 | Gunbarrel/Snakebite | George Martin |
| 16 | Bond To New York | George Martin |
| 17 | San Monique (Alternate) | George Martin |
| 18 | Bond And Rosie | George Martin |
| 19 | The Lovers | George Martin |
| 20 | New Orleans | George Martin |
| 21 | Boat Chase | George Martin |
| 22 | Underground Liar | George Martin |
Trivia
Live and Let Die was the first Bond film not to feature Q. Desmond Llewelyn was busy filming for a T.V show, but managed to get himself written out of three episodes so that he could return to play Q. Unfortunately, by the time the producers heard this, they had already written the Q character out of the film!
Roger Moore was consciously made to be different from Sean Connery. He doesn't wear a hat, he smokes cigars instead of cigarettes, he orders bourbon instead of martinis and he uses an oversized magnum gun, to contrast Connery's Walther.
Sean Connery turned down an estimated $5.5 million to return for Live And Let Die.
Live and Let Die is the first Bond film to feature a fictional country.
Geoffrey Holder choreographed his dance scenes himself.
Live and Let Die is one of the three Bond films where Bond doesn't appear in the pre-title sequence. The others were The Man With the Golden Gun, where only a wax model of Bond is shown, and From Russia With Love, in which a man wearing a convincing James Bond mask is shown, but not Bond himself.
Sean Connery called Roger Moore "an ideal Bond", showing his approval for the casting choice.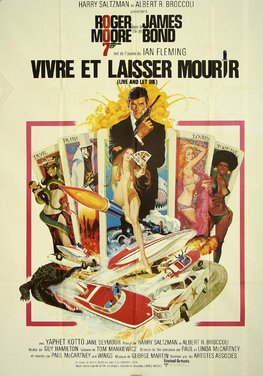 Box Office
| | |
| --- | --- |
| Opened in # Theatres | Unknown |
| Production Budget | $12 Million (~$61.1M with inflation) |
| Worldwide Gross | $161 Million (~$825.1M with inflation) |
Crew
Director
Guy Hamilton
Editor
Bert Bates
Raymond Poulton
John Shirley
Producers
Albert R. "Cubby" Broccoli
Harry Saltzman
Writers
Ian Fleming (Original Novel)
Tom Mankiewicz (Screenplay)
Awards
Paul and Linda McCartney were nominated for an Oscar for Best Music, Original Song in 1974.
Director Guy Hamilton won the Evening Standard British Film Award for Best Film in 1975.
Live And Let Die won a Golden Screen award in 1974.
Paul and Linda McCartney were nominated for a Grammy for Best Original Score in 1974
Live And Let Die was nominated for a Golden Satellite Award for Best Classic DVD Release in 2004