James Bond Actress - Lotte Lenya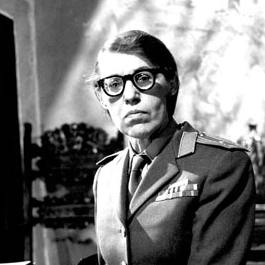 About
| | |
| --- | --- |
| Life | October 19th, 1898 - Nov 2nd, 1981 |
| Birthplace | Vienna, Austria |
| Place of Death | New York, USA |
| Cause of Death | Cancer |
Summary
Lotte Lenya developed an interest in dance into a long and successful stage and film career, the height of which was her role as SPECTRE agent Rosa Klebb in From Russia with Love in 1963. She will forever be remembered for her astounding performance, as well as for the poison tipped knife concealed in her shoe.
Biography
Lotte Lenya was born in Vienna, Austria in 1898, into a working class family. She had long aspired to be a dancer, and moved to Switzerland in 1914 to study classical dance and singing. She got her first role on stage the same year and moved to Berlin, Germany to find more work and to focus further on her acting career. While there she met a German composer named Kurt Weill, who she went on to marry in 1926.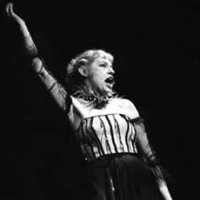 In 1933 political problems began to arise in Germany, and Lotte fled to Paris to escape the reins of Hitler. The stress of moving and readjusting to her new life resulted in her splitting up with Kurt. They were to reunite two years later however, and eventually remarried after emigrating to the United States. Lotte acted in many of Kurt's plays and musicals until his death in 1950, after which she continued to promote his music to honour his life in composition.
Although Lenya had a successful life in stage, she is better known for the film career that would follow. Her first major role was in The Roman Spring of Mrs. Stone in 1961, where she played the character Contessa Magda Gonzales, who introduces a retired actress and recently widowed woman to a young Italian man. The role won her a nomination for both an Oscar and a Golden Globe award. She reached the height of her fame when she accepted the role of SPECTRE agent Rosa Klebb in the second James Bond film From Russia with Love.
Lotte Lenya has had an astounding career in stage and film, and will be forever remembered by Bond fans worldwide for her iconic portrayal of the cruel and villainous woman who had a poison tipped knife concealed in her right shoe.
Roles in James Bond Movies
Trivia
In The Roman Spring of Mrs. Stone, Lotte starred across from Jill St. John, who would go on to play lead Bond girl Tiffany Case in Diamonds are Forever in 1971
Rumour has it that after her success in From Russia with Love, many people she met would quickly look at her shoes, due to the high popularity of the Poison-tipped Shoe Knife Gadget she was equipped with in the movie.
The book Lenya The Legend : A Pictorial Autobiography was published in 1998 to coincide with the 100th anniversary of her birth. It was edited and compiled by David Farneth, and included interviews and letters written by Lotte.
Lotte was born Karoline Wilhelmine Charlotte Blamaue, and used the stage name Lotte Lenja, before changing the spelling to Lenya
Awards/Nominations
Lotte was nominated for both an Oscar and Golden Globe for Best Supporting Actress in The Roman Spring of Mrs. Stone in 1961
Lotte came third place for a Golden Laurel award in the best female supporting performance category for her portrayal of Rosa Klebb in From Russia with love in 1963
Lotte won a Tony Award for her performance in The Threepenny Opera, which ran almost 3000 times in a small New York theatre