Who Played James Bond: A Complete History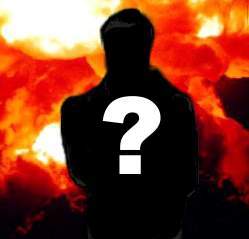 Summary
If you asked someone who the first actor to play James Bond was, they would probably answer Sean Connery. Similarly, if you were to ask how many actors had played the role, most people would say 5 or 6. You may be surprised to know that the above answers are wrong. Below, we give you the complete history of all of the actors who have played James Bond, not only in the official series, but in unofficial films, TV series and radio shows.
« Back to Part 1 (1954-1967)
1969

George Lazenby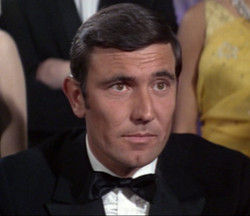 After Sean Connery's departure from the series in 1967, the producers began the search for a new James Bond. They found Australian model George Lazenby, who was the highest paid model in the world at the time.
During production, George's manager advised him against accepting a multi-movie contract, believing that the Bond movies would loose their popularity. How wrong he was. On Her Majesty's Secret Service was George Lazenby's first and last appearance in the Bond series, although in later years, he played Bond-like characters in several TV spoofs.
1971

Sean Connery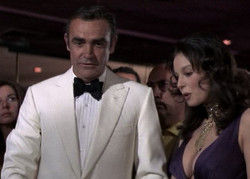 When George Lazenby retired from the series after filming On Her Majesty's Secret Service, the producers became desperate to find a new James Bond, as they had already sold part of the new film's proceedings to investors. The head of United Artists told them to bring back Sean Connery at any cost. Sean eventually agreed to do one last film, getting paid a $1.25 million base salary plus an estimated 12.5% of the profits.
Sean's performance in Diamonds Are Forever was as good as his prior Bonds, and the film was an enjoyable success. However, it would be the last time that he worked for EON Productions. Sean chose to donate his entire base salary to a Scottish education charity.
1973-1985

Roger Moore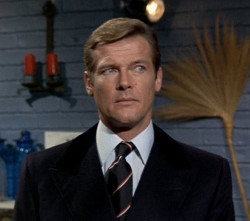 After Diamonds Are Forever, the hunt for a new James Bond was on. Roger Moore was at the top of the list of candidates, and luckily for him his TV show The Persuaders!, costarring Tony Curtis, wasn't renewed for a second series. This meant that Roger was free for the role, and he became James Bond in Live and Let Die.
Roger played the role with a sophisticated and slightly comical edge, and went on to star in The Man with the Golden Gun, The Spy Who Loved Me, Moonraker, For Your Eyes Only, Octopussy and A View to a Kill. With 7 movies, he currently holds the record for playing James Bond the most times in the official EON series (he would be tied for 1st place with Sean Connery if Never Say Never Again was counted as official).
1973

Christopher Cazenove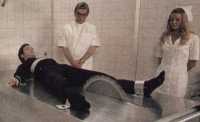 Christopher Cazenove played James Bond in Omnibus: The British Hero, a documentary and literary review style show on the BBC. He acted out several scenes from Ian Fleming's novels, including the scene pictured on the left from Goldfinger, where James Bond is nearly killed with a chainsaw (as opposed to the laser in the film Goldfinger).
1983

Sean Connery

In the late 1950s, Ian Fleming, Kevin McClory and Jack Whittingham created a screenplay for a possible James Bond film or TV series. However, after another of McClory's films—The Boy and the Bridge—had bombed at the box office, the idea was scrapped. Fleming didn't throw away the drafts though, and used some of the ideas in his next novel Thunderball.

Fleming was sued by Kevin McClory, who won the rights to make a film adaption. He made a deal with Cubby Broccoli and Harry Saltzman to make the film Thunderball, for which he got a credit as producer. Kevin was obviously unsatisfied with the film, because with the help of producer Jack Schwartzman, he remade it 18 years later. Never Say Never Again was Sean Connery's last film role as James Bond, and is considered by most to be his worst outing as 007.