James Bond Movie - Diamonds Are Forever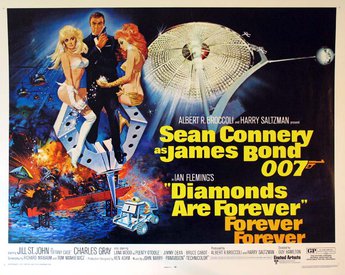 Info
Cast
| Character | Actor |
| --- | --- |
| Tiffany Case | Jill St. John |
| Plenty O'Toole | Lana Wood |
| Willard Whyte | Jimmy Dean |
| Saxby | Bruce Cabot |
| Mr. Kidd | Putter Smith |
| Mr. Wint | Bruce Glover |
| Shady Tree | Leonard Barr |
| Dr. Metz | Joseph Fürst |
| Mrs. Whistler | Margaret Lacey |
| Peter Franks | Joe Robinson |
Regulars
Plot
Diamonds Are Forever opens with James Bond, played by the returning Sean Connery, chasing down leads around the world to find Ernst Stavro Blofeld. Seeking revenge for the death of his wife in On Her Majesty's Secret Service, Bond eventually tracks Blofeld down, and kills him, cremating him in a pool of lava. Unfortunately, he only managed to kill a cosmetically altered lookalike.
Meanwhile, the henchmen duo Mr. Wint and Mr. Kidd track down each lead in a diamond smuggling pipeline, killing everybody connected, to destroy any evidence. Bond travels to Amsterdam under the guise of smuggler Peter Franks, to investigate the same pipeline. He meets Tiffany Case, who he believes has the latest batch of diamonds.
Bond soon discovers that the real Peter Franks has escaped, and intercepts him outside of Tiffany's apartment just in time. The two get into an intense elevator fight, which Bond eventually wins, throwing the real Peter Franks over the railings. In an out of character joke for the audience, Bond switches their IDs and tells Tiffany that he has killed James Bond.
Tiffany reveals where the diamonds are, and the two smuggle them to Los Angeles, hidden in Peter Franks' dead body. Bond meets Felix Leiter at the airport, and reveals that the diamonds are in Franks' stomach.
Leaving Leiter to extract the Diamonds, Bond goes to a funeral home to give some fake diamonds to the next chain in the smuggling pipeline, stand-up comedian Shady Tree. Bond is almost cremated alive by Mr. Wint and Mr. Kidd, but Shady Tree stops the process when he realizes that the diamonds are not real. Bond quips, "you wouldn't burn up $50,000 real dollars, would you?".
Bond travels to Las Vegas, to visit the Whyte House hotel, where Shady Tree works. Bond goes to talk to Shady, but finds him dead. Mr. Wint and Mr. Kidd had killed him thinking that they had the real diamonds already. Bond meets up with Tiffany, and tells her to pick up the diamonds at the Circus Circus casino.
Bond has Leiter follow Tiffany, but she gives them the slip in a large parking lot, and runs off with the diamonds. Bond visits her house and shows her the dead girl in her pool, suggesting that she play along if she wants to stay alive.
The diamonds then follow along to Burt Saxby, who Bond follows into an underground research facility owned by Willard Whyte. Bond impersonates a lab worker, to try and get some more information. However, the real lab worker does his rounds, and Bond blows his cover. He runs into a moon set, a joke about the fake filming of the moon landing conspiracies, and escapes in a moon buggy.
Bond climbs upto the roof of the Whyte House hotel, to find out what is happening with Willard Whyte. However, to his surprise, he finds two Blofeld's there. Bond kills one of them, but the real Blofeld reveals that Bond only killed one of his cosmetically altered look-alikes. He reveals that he has kidnapped the reclusive Willard Whyte, to use him as a cover.
Bond escapes and goes back to the lab, discovering that Blofeld was using diamonds to create a powerful refracting satellite, which he puts into orbit and uses to blow up the nuclear weapons of world powers. His plan is to extort money out of the richest country.
Bond follows Blofeld to an oil-rig for a spectacular ending scene, where the CIA launches an aerial attack against Blofeld. Bond destroys the satellite control room, and escapes with Tiffany.
Music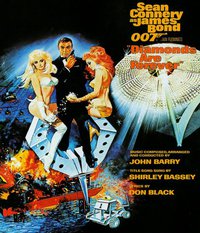 Shirley Bassey returned for the first time since Goldfinger, for a stunning ballad. Supposedly producer Harry Saltzman hated the song, due to the innuendos in the lyrics, but his partner Cubby Broccoli convinced him to keep it.
| Track # | Song | Author |
| --- | --- | --- |
| 1 | Diamonds Are Forever (Main Title) | Shirley Bassey |
| 2 | Bond Meets Bambi And Thumper | John Barry |
| 3 | Moon Buggy Ride | John Barry |
| 4 | Circus Circus | John Barry |
| 5 | Death At the Whyte House | John Barry |
| 6 | Diamonds Are Forever | John Barry |
| 7 | Diamonds Are Forever (Bond & Tiffany) | John Barry |
| 8 | Bond Smells a Rat | John Barry |
| 9 | Tiffany Case | John Barry |
| 10 | 007 and Counting | John Barry |
| 11 | Q's Trick | John Barry |
| 12 | To Hell with Blofeld | John Barry |
| 13 | Gunbarrel and Manhunt | John Barry |
| 14 | Mr. Wint and Mr. Kidd | John Barry |
| 15 | Peter Franks | John Barry |
| 16 | Airport Source | John Barry |
| 17 | Slumber, Inc. | John Barry |
| 18 | The Whyte House | John Barry |
| 19 | Plenty, Then Tiffany | John Barry |
| 20 | Following the Diamonds | John Barry |
| 21 | Additional And Alternate Cues | John Barry |
Trivia
Sean Connery was paid $1.25 million for the film plus 12.5% of the profits. He donated the $1.25 million base salary to his Scottish education charity. He supposedly made over $4 million from his share of the profits.
Diamonds Are Forever broke the three-day gross revenue records on its release.
The character Klaus Hergerscheimer was an in-joke by the writer Tom Mankiewicz. Director Guy Hamilton was known for calling things Hergerscheimer if he forgot the name.
Lois Maxwell had dyed her hair before the filming started, and had to wear a hat in the film.
Lana Wood was cast after Cubby Broccoli and Harry Saltzman saw her in Playboy Magazine.
Lana Wood was dubbed in the film, and had to stand on a box for some scenes, due to her short stature.
Jill St. John was the first American Bond girl.
Sean Connery once worked as an undertaker, and Cubby Broccoli was once a salesman at the Long Island Casket Company. It's ironic that there are many casket and hearse scenes in the film.
The lava pool in the film's opening sequence, into which Bond cremates a clone of Blofeld, was reportedly made with instant mash potatoes and dye.
Box Office
| | |
| --- | --- |
| Opened in # Theatres | Unknown |
| Production Budget | $7.2 Million (~$46.5M with inflation) |
| Worldwide Gross | $116 Million (~$617.5M with inflation) |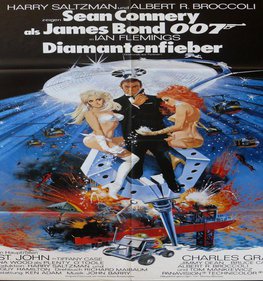 Crew
Director
Guy Hamilton
Editor
Bert Bates
John W. Holmes
Producers
Albert R. "Cubby" Broccoli
Harry Saltzman
Writers
Ian Fleming (Original Novel)
Richard Maibaum (Screenplay)
Tom Mankiewicz
Musicians
John Barry
Production Designer
Ken Adam
Awards
Diamonds Are Forever was nominated for an Oscar for Best Sound in 1972.
The film was nominated for a Golden Satellite Award for Best Classic DVD Release in 2004
The film won the German Golden Screen award in 1973