James Bond Movie - The Man with the Golden Gun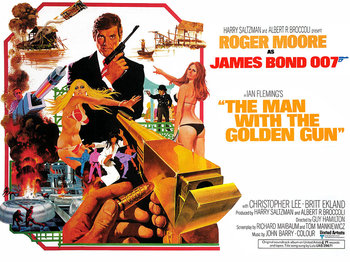 Info
Cast
| Character | Actor |
| --- | --- |
| Francisco Scaramanga | Christopher Lee |
| Andrea Anders | Maud Adams |
| Nick Nack | Hervé Villechaize |
| Mary Goodnight | Britt Ekland |
| Sheriff J.W. Pepper | Clifton James |
| Lazar | Marne Maitland |
| Hai Fat | Richard Loo |
Regulars
Plot
The Man with the Golden Gun opens with a game of death. A gangster named Rodney is invited to Francisco Scaramanga's private island, with a challenge to kill him. Rodney gets a fully loaded gun, while Scaramanga gets only one golden bullet. But, Rodney is lead into a fun house, and Scaramanga has the advantage, killing Rodney and winning another of his games.
Back in London, Bond is confronted by M, who tells him that MI6 has been sent a golden bullet with 007 engraved onto it. Believing Bond is the next target, M sends him to find Scaramanga first. During his search, Bond meets a belly dancer with a golden bullet as her lucky belly button charm. After trying to discreetly take the bullet, a thug gets in the way, and Bond ends up swallowing it.
Bond tracks the bullet back to a specialized gunsmith in Macau, and discovers that he delivers golden bullets anonymously, dropping them in a basket at a casino. Bond follows the next step in the pipeline, and discovers that the bullets are picked up by Andrea Anders, Scaramanga's girlfriend.
Although initially very strong, Bond manages to get information out of Anders. He learns that Scaramanga will be at the Bottoms Up club in Hong Kong, and heads over to surprise him. However, always two steps ahead, Scaramanga has his sights on Bond. He shoots past him to kill energy scientist Gibson, allowing his man-servant/sidekick Nick Nack to collect the valuable energy Solex agitator.
Bond is arrested for the assassination by Lieutenant Hip. However, it turns out that Hip is helping Bond out of the situation, by taking him to a wrecked ship that has been converted into a HQ for MI6. Bond meets M and Q, who brief him to retrieve the Solex agitator from Scaramanga. Bond suspects that millionaire Hai Fat financed the assassination, and poses as Scaramanga to get into his palace, complete with a fake third nipple, courtesy of Q.
Hai Fat, who had already met with Scaramanga in person, knew Bond's identity, and captured him. Fat intended for Bond to fight to death with his martial art experts, but Bond fights cheaply and manages to escape. Fat is then killed by Scaramanga, for being incompetent at dealing with the problem.
Bond is then surprised by Ms. Anders, who makes a midnight visit. She pleas with him to kill Scaramanga, revealing that it was her that sent the engraved bullet to MI6. Bond goes to a Sumo Wrestling event the next day, to collect the Solex agitator, that Anders has stolen from Scaramanga's safe.
Bond arrives to find her dead, and loses both the agitator and his clumsy assistant Mary Goodnight. Following her to Scaramanga's island, Bond receives a warm welcome and a tour, before Scaramanga challenges Bond to an old fashioned duel.
Following his usual tricks, Scaramanga disappears into his fun house before Bond turns around to shoot. Although Scaramanga has the advantage, knowing the tricks and layout of his fun house, Bond manages to out smart him. Scaramanga happens to have a life-size mannequin of Bond, for target practise, and Bond stands in its place, providing him the surprise needed to kill Scaramanga. He and Mary Goodnight take the agitator and escape the island just before it explodes.
Music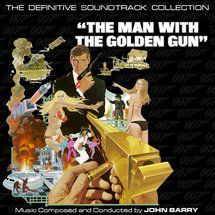 | Track # | Song | Author |
| --- | --- | --- |
| 1 | The Man With The Golden Gun | Lulu |
| 2 | Scaramanga's Fun House | John Barry |
| 3 | Chew Me in Grislyland | John Barry |
| 4 | The Man With The Golden Gun | John Barry |
| 5 | Getting the Bullet | John Barry |
| 6 | Goodnight Goodnight | John Barry |
| 7 | Let's Go Get 'Em | John Barry |
| 8 | Hip's Trip | John Barry |
| 9 | Kung Fu Fight | John Barry |
| 10 | In Search of Scaramanga's Island | John Barry |
| 11 | Return To Scaramanga's Fun House | John Barry |
| 12 | The Man With The Golden Gun - Reprise | John Barry |
Trivia
Mary Goodnight, played in the film by actress Britt Ekland, only appeared once in the Bond series. However, she was a regular character in the Ian Fleming novels, featuring as James Bond's secretary three times.
Scaramanga's Golden Gun features prominently in the James Bond video games, as an easy one-shot kill. It usually has either limited ammunition, or is available to all players, in a The Man With The Golden Gun mode.
In the opening scene of the film, Scaramanga kills a gangster named Rodney, in his fun house. Rodney was played by Marc Lawrence, who had had a minor role in Diamonds Are Forever 3 years earlier.
Christopher Lee, who played Scaramanga, has said that the Golden Gun prop was extremely difficult to assemble, though he makes it look easy in the film.
The Golden Gun was made from three accessories. The barrel was a fountain pen, the handle was a cigarette case, and the chamber was a lighter.
The Man with the Golden Gun was the last 007 film that Harry Saltzman would produce. He had started the series with Cubby Broccoli in 1962, but ended up in financial troubles.
Box Office
| | |
| --- | --- |
| Opened in # Theatres | Unknown |
| Production Budget | $7 Million (~$35.6M with inflation) |
| Worldwide Gross | $97 Million (~$448.2M with inflation) |
Crew
Director
Guy Hamilton
Editor
Raymond Poulton
John Shirley
Producers
Albert R. "Cubby" Broccoli
Harry Saltzman
Writers
Ian Fleming (Original Novel)
Richard Maibaum (Screenplay)
Tom Mankiewicz (Screenplay)
Conductor
John Barry
Awards
The Man with the Golden Gun Won the Golden Screen Award in 1977