James Bond Actor - Gert Frobe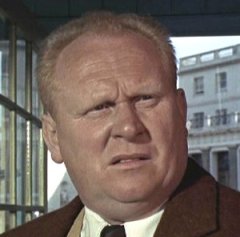 About
| | |
| --- | --- |
| Life | February 25th, 1913 - September 5th 1988 |
| Birthplace | Oberplanitz, Saxony, Germany |
| Place of Death | Munich, Bavaria, Germany |
| Cause of Death | Heart Attack |
Summary
Gert Frobe was a German actor who starred in over 100 films. He's best known outside of Germany for his legendary performance as Auric Goldfinger in the James Bond film Goldfinger (1964).
Biography
Gert Frobe was born in Oberplanitz (now Zwickau), Saxony, Germany under the name Karl-Gerhart Frober. Throughout his career, he has starred in over 100 films, although his voice was dubbed for several of his English roles (including Goldfinger) because he couldn't speak English. He is most recognized for his role of Auric Goldfinger in the 1964 James Bond film Goldfinger. He also played Baron Bomburst in Chitty Chitty Bang Bang which was written by James Bond author Ian Fleming, and produced by Cubby Broccoli.
Gert was a member of the Nazi Party and received a lot of grief after the war ended. However, several families came forward in his defence, as it was revealed that he had helped to hide many Jews from the German police. Gert died in Germany in 1988 from a heart attack.
Roles in James Bond Movies
Goldfinger (1964) as Auric Goldfinger
Trivia
In the James Bond movie Goldfinger, Gert's voice was dubbed by Michael Collins
Due to Gert's connection with the Nazi Party, the film Goldfinger was banned in Israel, but later allowed after a Jewish family publicly thanked him for helping to hide them.
Other Notable Roles/Movies
Chitty Chitty Bang Bang (1968) as Baron Bomburst
The Longest Day (1962) as Sgt. Kaffekanne
Awards
Won the Ernst Lubitsch Award in 1961 for his role in Gauner und der liebe Gott, Der (1960)
Won an Honorary Award in 1978 in the German Film Awards for his lifelong contribution to German films
Won a Golden Laurel in 1965 and came 3rd place in the Male Supporting Performance category of the Laurel Awards for his performance as Auric Goldfinger.
Won the Best Actor category at the San Sebastián International Film Festival in 1961
Additional Images