Skyfall Full Theatrical Trailer
Posted October 20th, 2012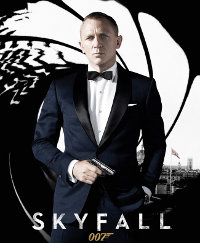 A full 2 minute trailer has been released for Skyfall, the final version before the film's opening day on October 26th. The trailer contains segments from earlier teaser trailers, but also includes some new, previously unseen footage.
Skyfall, directed by Bond newcomer Sam Mendes, will feature Spanish actor Javier Bardem as villain Raoul Silva, an ex-MI6 agent who is seeking revenge against the service. The star-studded cast also includes Ralph Fiennes as Mallory, Naomie Harris as Eve, Albert Finney as Kincade, and Bérénice Marlohe as Sévérine.
With early critical praise, it has been speculated that Skyfall may be the first 007 film to bring in over $1 billion at the box office. When adjusted for inflation, Thunderball is the top grossing Bond film of all time, making just over $1 billion. Daniel Craig's two previous outings Casino Royale and Quantum Of Solace ranked as the 6th and 9th top grossing Bond films, respectively.
Prev/Next
«
Press Reviews for Previews of Skyfall
Book Review: James Bond 50 Years of Movie Posters
»