Book Review: James Bond 50 Years of Movie Posters
Posted October 27th, 2012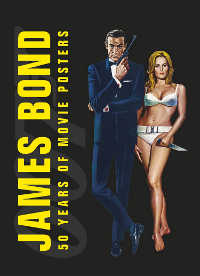 The 50th anniversary of James Bond has brought forward a wealth of new publications. While some focus exclusively on Skyfall, many have taken the opportunity to give a deep retrospective on the entire series. One such book, James Bond: 50 Years of Movie Posters, was published on September 3rd by DK, who were kind enough to send a copy for review.
50 Years is ordered chronologically, with a chapter covering each film from Dr. No through to Skyfall. It is also very text light, with 90% of the space being pure posters. Each film gets an introduction and each poster has a short comment or piece of trivia. Other than that, it is posters galore.
A lot of time and effort has been spent on the layout, which minimizes wasted space. High resolution portrait posters typically get a full page to themselves. Landscape posters on the other hand are either two-page spreads, two to a page, or mixed together with smaller lobby cards and odd shaped foreign posters.
The selection of posters is fantastic. There's a good mix of popular, well known posters, and rare, previously unpublished ones from the depths of the EON Productions archives. Most importantly, the selection is not repetitive. The usual UK and US posters are mixed in with foreign posters from all over the world, US lobby cards, bus posters, concept art, inserts, door panel posters, Italian Photobustas, and more.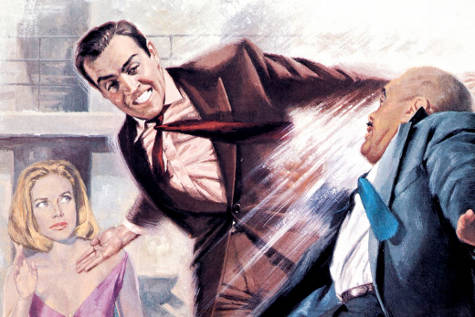 50 Years is very extensive, with the chapter on Dr. No, for instance, containing 37 different posters. The variation is very good, and it's still interesting to come back to a favourite film again and again. For Sean Connery, George Lazenby, Roger Moore and Timothy Dalton, each of their films is given a good deal of attention, and it is quite fascinating to look through, regardless of which Bond actor or film you prefer.
The only let down of the book, is the sections on the Pierce Brosnan and Daniel Craig films. It's not that less care has been put into those chapters, the problem is that the newer foreign Bond posters are practically the same as the UK or US ones. For Dr. No there are unique posters for Japan, France, Italy, Turkey, Australia, Belgium, Germany, Sweden, Spain, and The Netherlands. But for Pierce Brosnan's Tomorrow Never Dies, the German and Swedish posters are practically the same as the UK ones. The Japanese posters are similar to the US counter-parts.
The Brosnan and Craig sections are still interesting to look through, but the main appeal of the book is in the earlier films. Along with the 23 "Official" EON Productions films, the unofficial 1967 Casino Royale spoof and the 1983 Sean Connery Bond film Never Say Never Again are also included.
The only other book that comes close to 50 Years of Movie Posters, is Tony Nourmand's James Bond Movie Posters, published in 2004. If you own that book, or are stuck choosing between the two, I'm afraid Nourmand's book has been completely superseded.
50 Years is almost twice as big and twice as heavy as Nourmand's, and to quote a Bond poster, "Twice is the Only Way to Live". The print quality of 50 Years is superior, the coverage is more extensive, and it is more upto date, even including a Skyfall teaser poster. The layout is also nicer in many cases, with less blank space.
In conclusion, I would recommend this book to both the casual fan, and the James Bond connoisseur. It's big, varied, and immensely interesting. I received the book 3 days ago, and I'm still flipping through the same sections over and over. The quality is very high, and the experience is unrivalled.
James Bond: 50 Years of Movie posters retails for £35, but can be found on amazon for £19.25. It has 304 pages, weighs a staggering 6.9 pounds, and comes with a slipcase and two art prints.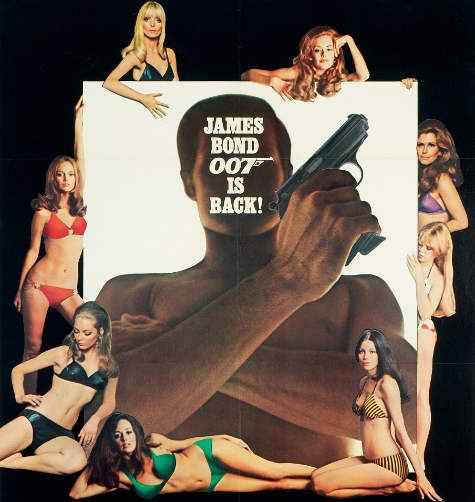 Disclaimer: Poster images are copyright Danjaq LLC and United Artists Corporation. All rights reserved. Images used with permission.
Prev/Next
«
Skyfall Full Theatrical Trailer
Interview with Skyfall Comic Artist Josh Edelglass
»