Daniel Craig May Become The Longest Running 007
Posted December 18th, 2011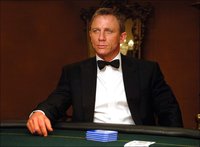 Producer Michael G. Wilson recently did an interview with The People, saying "I'd love Daniel to surpass Roger's record and do eight pictures. A lot of people have said Daniel's been their favourite Bond since Sean Connery and I can't argue with them. He's doing a great job."
This would make Daniel Craig the longest running James Bond actor, knocking Roger Moore (who did 7 films) and Sean Connery (who did 6 films for EON Productions, and 1 unofficial film) off the top of the list.
Michael added "Daniel's been a terrific Bond, a superb actor and a terrific man. The fans love him and I don't think there's a better actor to play the part." It is rumored that Daniel will earn £8 million for Skyfall next year, so the 5-film deal would probably pay over £50 million.
In the inflation injusted Box Office Stats, Daniel's two films Casino Royale and Quantum Of Solace are currently ranked the 6th and 9th most profitable respectively.
Director Sam Mendes is giving Skyfall a more 60s feel, Michael said, adding that "I think that's what the fans wanted. There's a magical Goldfinger feel surrounding it all. It's all very exciting." That certainly would be a nice surprise, we already revealed that the Aston Martin DB5 is back, filming in a location reminiscent of the backlot chases in Goldfinger. Skyfall is also rumored to feature many train scenes, perhaps a throwback to From Russia With Love.
Wilson also revealed that he'd really like to get all six James Bond actors together to celebrate the 50th anniversary of the series. "We're trying to find a way for fans to celebrate with us, because they've been the reason the Bond films have been the success they have. At the moment these are just ideas so you'll have to wait and see. Whatever happens it will be a special year for Bond fans."
Prev/Next
«
Skyfall Crew Possibly Filming at Ascot Train Station
Screenwriter John Logan Talks Skyfall
»