The Making of the Goldfinger Title Sequence
Written by Gwen Williams
Summary
Title designer Robert Brownjohn's sequence for Goldfinger, the third James Bond film, features live-action scenes from the initial three Bond films projected onto bikini-clad, gold-painted starlet Margaret Nolan. It passed the film censor despite its sexual suggestiveness and won a British Design and Art Direction Gold Award. Read more to discover what makes this classic Bond title sequence unforgettable, from its modernism to its images and music.
The Allure of the James Bond Title Sequence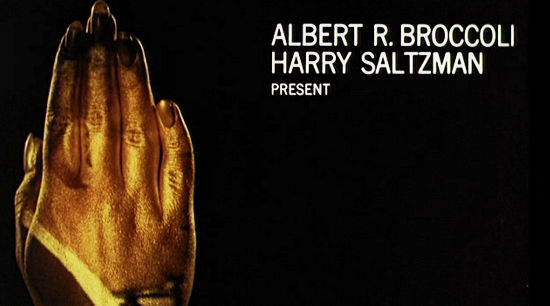 What's the most memorable element of a film--its story, the action scenes? Sometimes what resonates isn't the film itself but rather the swift imagery and music of the film's title sequence. An art form unto itself, the film title often segues into the feature with scenes that foreshadow the plot and theme of a film, setting mood and tone while presenting key production and cast members.
The iconic visual and musical elements of the James Bond title sequences--sexy silhouettes and the 007 theme--are familiar to many, indicating that a James Bond film is about to begin. For new viewers they provide a short introductory statement about the Bond persona, accompanied by surprising and enticing opening shots. Bond title sequences are internationally known and recognized as stylish, modern-looking metaphors for the Bond universe. They create a rapport with the audience and prepare viewers for the coming film.
All of the title sequences in the Bond series share in common the invitation to the viewer to join 007 on his most recent quest of espionage. But these sequences all have their own unique artistic visions and interpretations of the James Bond mythos.
Robert Brownjohn Crafts an Idea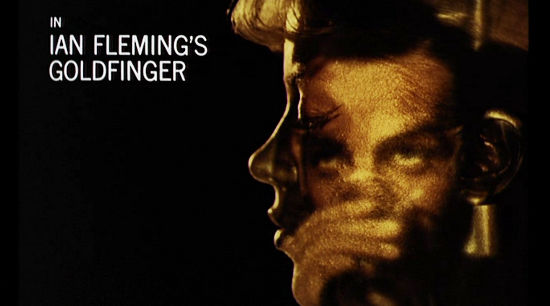 Taking a more in-depth look at the Goldfinger title sequence, there is only one place to begin and that's with the meeting at which title designer Robert Brownjohn presented his idea for the sequences for the second and third Bond films From Russia With Love (1963) and Goldfinger (1964) to producers Albert "Cubby" Broccoli and Harry Saltzman, demonstrating how the idea would work.
Brownjohn loaded a set of slides into a projector, darkened the lights, removed his shirt, and stepped in front of the projector's beam. As the slide images and text reflected onto his stomach he danced, saying, "It'll be just like this, except we'll use a pretty girl!" Broccoli and Saltzman saw the potential and Brownjohn was given free rein.
Born in Newark, New Jersey, in 1925, Brownjohn enrolled at the Institute of Design in Chicago in 1944. As a student of Bauhaus émigré László Moholy-Nagy, Brownjohn participated in moving imagery experiments and became influenced by Bauhaus teachings.
During the '50s as a partner in the New York design group BCG, he developed a personal design style that reflected his interest in pop art, European modernism, hand-drawn images, found objects, typography, collage, and visual puns. In 1960 Brownjohn left New York for London, becoming the creative director at advertising agencies J. Walter Thompson and McCann-Erickson.
Saltzman and Brownjohn had met previously at a Chelsea dinner party, at a time when filmmakers and graphic designers were forming a close-knit group. London was emerging as a vibrant filmmaking and graphic design scene and Brownjohn's design sensibility was perfectly timed for '60s Britain: provocative, sexy and witty with an eye for modernist graphic concepts.
Brownjohn extended his print design work to moving image, formed a film company and designed the sequences for the two classic Bond films, a high point in his career. Although never having worked with live-action, storyboards or scripts, he had the ability to play around with the camera and the lights to develop unique ideas and approaches.
At the Institute of Design, Moholy-Nagy had experimented with projecting light onto clouds; Brownjohn adapted this concept to his Bond titles, projecting image and text onto women's bodies, which he used as three-dimensional screens.
Margaret Nolan: The Golden Girl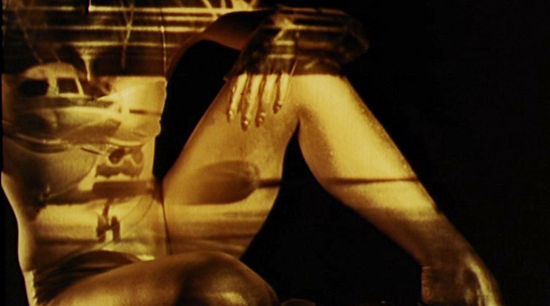 Superimposed over the curvaceous body of actress Margaret Nolan, dressed in a gold leather bikini, the Goldfinger title sequence features images foreshadowing the plot as well as clips from the previous two Bond films, Dr. No and From Russia With Love. The visually distorted sequence was fresh and enthralling and appealed to the producers. Nolan, who portrayed Dink, Bond's masseuse at the Fountainbleau Hotel in Miami Beach, also modelled for the film's poster art and soundtrack cover.
Nolan was painted gold, resulting in glossy, naughty images that combine a conceptual simplicity with the film's recurring gold theme, a design aspect conceived by art director Peter Murton and production designer Ken Adam. The glittery images shimmer across Nolan, from her hand, face and mouth to shoulders, chest, arms, and legs. Gold motifs pervade every scene throughout the sequence and film, paralleling the symbolic treatment of gold in Ian Fleming's 1959 novel Goldfinger, which the film's storyline is loosely adapted from.
The title sequence serves as an tightly-paced introduction to the film's memorable cast of characters, with images of the title villain Auric Goldfinger (Gert Frobe), James Bond (Sean Connery), Pussy Galore (Honor Blackman), Bond girl Jill Masterson (Shirley Eaton), and Goldfinger's hitman Oddjob (Harold Sakata) flickering seductively off of Nolan's body.
The projected images develop new meanings when feminine contours act as a secondary landscape. A golf ball traces a trajectory into Nolan's cleavage for the proverbial hole in one, Nolan's knees turn into hills a miniature Bond must navigate across and Bond's Aston Martin DB5 makes its first appearance with its revolving license plates masking Nolan's mouth. Neon signs, lights, explosions, and fires flash over and around the actress, their inspiration drawn from pop art, modernism and nightlife.
Shirley Bassey Lights up the Scene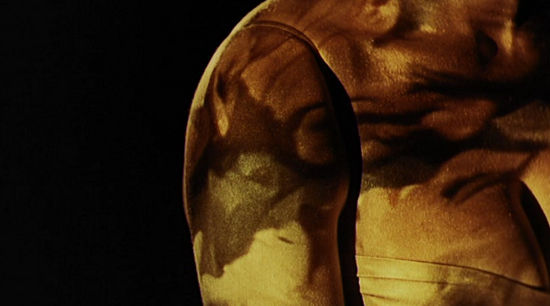 As scenes and characters shimmer across the starlet's curves, songstress Shirley Bassey performs the film's title song, composed by John Barry with lyrics by Anthony Newley and Leslie Bricusse.
| | |
| --- | --- |
| | Goldfinger, he's the man |
| | The man with the Midas touch |
| | A spider's touch |
| | Such a cold finger |
| | Beckons you to enter his web of sin |
| | But don't go in |
The sequence images and title song amplify each other in an irresistible way. Goldfinger is said to have originated the tradition of using a pop genre tune as the Bond theme song, creating a template for the Bond sequence that was followed by later films in the series. The song ranked 8th in the Billboard Hot 100 and 21st in the UK charts. The soundtrack album, released in October 1964 by UA records, was named one of Variety's Top Fifty albums of 1965.
Female imagery and silhouettes in the titles, along with the iconic gun barrel sequence, would later become a Bond hallmark. Brownjohn's passive female forms created the framework that was adhered to in every subsequent Bond title. He intuitively recognized the semi-nude female as one of the main ingredients of Bond imagery. All future Bond sequences featured naked or semi-clad female silhouettes swimming, fighting, jumping, doing acrobatics, smoking, and dancing.
The Start of a Legacy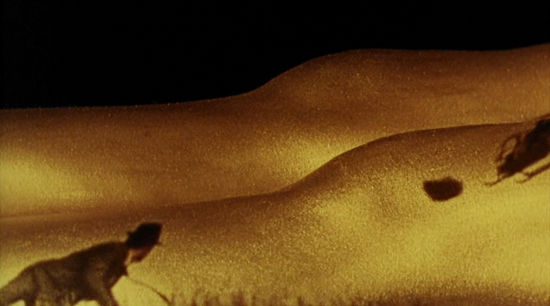 Brownjohn's Goldfinger title sequence morphed into a short, innovative cinema piece with its own version of the film's narrative--a miniature Bond movie. His sequence was seductive, thrilling, sensual, exciting, and fun. It passed the film censor despite its sexual suggestiveness and won him a British Design and Art Direction Gold Award in 1965.
For Broccoli and Saltzman, operating as Eon productions, Goldfinger served as the bridge between the modest initial two films and the later big-budget movies. Its adventurous title sequence was an important prototype for the Bond series, a showcase of contemporary design that was a significant component to the body of the film. After Brownjohn's Goldfinger sequence, former designer Maurice Binder returned to create the title for the fourth Bond film, Thunderball (1966), as well as several subsequent titles for the franchise.
Bond titles have since become renowned filmic sequences on their own account. They all share the common factor of an ingenious exhibitionism, a tradition that has remained intact in future sequences created by directors Binder, design studio MK12 and most recently Daniel Kleinman's moody and exhilarating title sequence for Skyfall, the 23rd installment of the Bond series.
Similar to the cultural impact the Bond films have, their title sequences have had an enduring influence on title and graphic design with significant creative contributions made by the Bond title directors. They've become popular amusements universally known for their iconic visual style evoking glamour, sexiness, intrigue, danger, humor, and sophistication. In Goldfinger's case, a memorable, cinematic title sequence instantly recognized by many for its shimmer, golden girl and the Midas touch.