Production Designer Syd Cain Passes Away
Posted November 22nd, 2011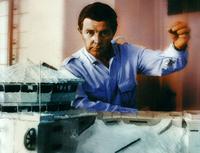 Syd Cain, who was the production designer for On Her Majesty's Secret Service, and the Art Director for Dr. No, From Russia With Love, and Live and Let Die, passed away today at age 93. Syd was born in Lincolnshire, England on April 16th, 1918.
Before working on the Bond series, Syd worked as a draughtsman in the 1954 film Hell Below Zero, and as an associate art director for the 1955 film The Cockleshell Heroes, both co-produced by future Bond producer Cubby Broccoli. Syd was also associate art director on Stanley Kubrick's Lolita and Carol Reeds Our Man in Havana.
Some of Syd's contributions to the Bond series include designing the dragon tank from Dr. No, the chess game set and the Attache Case Gadget from From Russia With Love, the Piz Gloria set from On Her Majesty's Secret Service, and the buzz cutting Rolex from Live and Let Die which recently sold at auction for over $200,000.
Syd did storyboarding for Goldeneye, as well as designing several of the films gadgets, including the Goldeneye Satellite itself. He also worked as the production designer for Billion Dollar Brain, a spy film produced by Bond producer Harry Saltzman in 1967.
Prev/Next
«
Photos of Shirley Eaton Being Painted Gold Sell for £2,580
James Bond May Return to Canary Wharf for Skyfall
»