James Bond May Return to Canary Wharf for Skyfall
Posted November 25th, 2011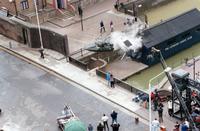 According to the newspaper The Wharf, the James Bond production team will be returning to the Canary Wharf to shoot some scenes for the upcoming film Skyfall, in the next few weeks. "The Wharf can exclusively reveal that some scenes will be shot at The Four Seasons Hotel in Westferry Circus."
Both the hotel and EON Productions refused to comment. However an EON spokesperson said "We would not usually say which locations we are using anyway". John Logan, Skyfall's screenwriter, stated that the new film would only have stunt sequences that were appropriate to the story, and that they would remain true to the Bond tradition.
John commented further: "The important thing for me is making sure that the action belongs in that movie, cause there's such a thing as a Bond kind of action, and then there's a subset of that which is our Skyfall kind of action, they all have their own definitions."
The last time the Bond series was shot in the Docklands was in The World Is Not Enough. The opening sequence featured Pierce Brosnan speed boating through the Wapping and the Royal Docks, ending at the O2 Arena (previously known as the Millennium Dome).
See the original article for more details.
Prev/Next
«
Production Designer Syd Cain Passes Away
Ben Whisham to Play Q in Skyfall
»