Photos of Shirley Eaton Being Painted Gold Sell for £2,580
Posted November 21st, 2011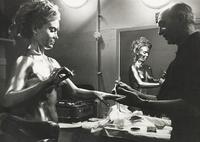 Three black and white photographs of Shirley Eaton taken by David Hurn, who was hired to photograph the cast of Goldfinger on set and backstage, just sold for £2,580 to a private collector. The photos show Shirley being painted gold in preperation for her iconic scene in the film.
Her character, Jill Masterson, is seduced by Bond and she helps him catch her boss, Goldfinger, cheating at cards. Goldfinger gets his revenge, and sends an unmistakable warning to Bond, by painting Jill gold and leaving her dead in Bond's hotel room.
The paint took about an hour and a half to apply and dry, during which time several members of the crew supposedly brought in excessive amounts of tea, just to get a glimpse. Shirley agreed to do the seen, so long as the nudity was done tastefully.
Prev/Next
«
Noel Gallagher of Oasis May Write Skyfall Theme
Production Designer Syd Cain Passes Away
»