James Bond Movie - Spectre (Bond 24)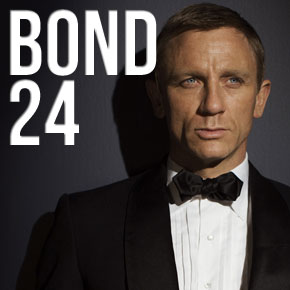 Info
| | |
| --- | --- |
| Release Date (UK) | October 23th, 2015 |
| Release Date (US) | November 6th, 2015 |
| Director | Sam Mendes |
| Film Number | 24 |
| Previous Film | Skyfall |
| Next Film | Bond 25 |
Table of Contents
Everything you need to know about Spectre, the upcoming James Bond film, also known as Bond 24. Spectre will be released worldwide on November 6th, 2015. Learn about the title, poster, bond girls, cars and cast.
Pre-Production Begins
Bond 24 is currently in pre-production, with a confirmed UK release date of October 23, 2015. After directing Skyfall, Sam Mendes said that he would bow out in order to focus on some theatre work. However, after ongoing talks with producers Michael Wilson and Barbara Broccoli, they decided to fit Bond 24's schedule around Mendes' theatre work, so that he could stay on as director.
Plot
While no details of the plot have been officially released, there are rumors that Bond 24 may be based on Devil May Care, a 2008 Bond novel by Sebastian Faulks, written in the style of Ian Fleming.
Casting Details
Daniel Craig
Daniel Craig has signed up for two more Bond films, Bond 24 and Bond 25. Daniel had previously stated that he wished for singer Adele and director Sam Mendes to return for Bond 24.
Naomie Harris
After the success of the relaunch of Miss Moneypenny in Skyfall, it is likely that Naomie Harris will return to play her again. Bond fans loved the return of the classic characters Moneypenny and Q, and many hope they will stay on as regulars in the modern Bond films.
Box Office
| | |
| --- | --- |
| Production Budget | $200M (estimated) |
Crew
Director
Sam Mendes
Editor
Stuart Baird
Producers
Michael G. Wilson
Barbara Broccoli
Writers
Ian Fleming (Characters)
John Logan (Screenplay)
Production Designer
Dennis Gassner