Skyfall Teaser Poster and Trailer Released
Posted June 4th, 2012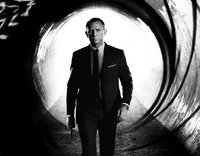 The first official teaser poster for the upcoming Bond 23 film Skyfall has been released, along with a 1m24s trailer. The poster features Daniel Craig affront a backdrop of a view through a gun barrel. The poster is obviously trying to go back to the roots of James Bond, for the 50th anniversary of the series.
Bond began in 1962 with the first film Dr. No that opened with the infamous gun barrel sequence. The sequence, showing the view through the barrel of an assassin's gun following Bond, before Bond quickly spins around and shoots him, has become a tradition, appearing in every official James Bond film.
Click the image on the right to see the full poster.
The trailer looks very impressive, but we won't spoil it for you. You can watch it for yourself:
Prev/Next
«
Ralph Fiennes On the James Bond Novels
Daniel Craig to Open the Olympics
»