Limited Edition Replicas of Goldfinger Homer Gadget
Posted October 13th, 2012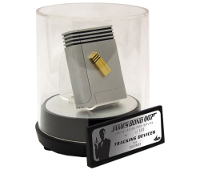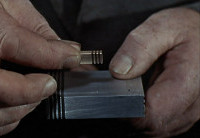 Factory Entertainment, who previously released a limited edition golden gun replica, have now produced 500 replicas of the homer tracking devices used in Goldfinger. The pieces cost $379 each and will be released for sale on October 16th.
Devised by Q, the two homers could be tracked on the GPS dashboard of Bond's Aston Martin DB5. Bond hid the large silver homer in Auric Goldfinger's Rolls Royce, and used it to track him on his journey to Switzerland. The smaller gold companion was hidden in the heel of Bond's shoe, so that he could be tracked by Felix Leiter at the CIA.
The original prop that was made for the film has since been lost, but the replica is based on original drawings and technical diagrams. Factory Entertainment also consulted the original crew members of Goldfinger, to make sure all the details are as accurate as possible.
The homer comes with a museum quality display stand, a numbered limited edition plaque, and a detailed prop story booklet. Further details follow:
Larger Homer: Machined from solid stainless steel and aluminium the larger homer replica contains a powerful magnet. It also features a spring loaded slide which emits an electronic 'beep' when pulled back, exactly as seen in the film, to tell you it's 'armed'. Release the slide and it springs back into place ready for action.
Smaller Homer: Crafted from brass alloy and polished to a high shine the smaller homer features a manual pull back arming slide and will attract to the larger homer when placed near, as demonstrated by Q in the film. However Q, played by the late and much beloved Desmond Lewellyn, employed a little slight-of-hand and simply dropped the smaller homer onto its bigger brother. There was no magnetic attraction because smaller homer prop was made from solid brass, a non-magnetic material. We have elected to use a brass alloy that will allow for actual magnetic attraction.
To pre-order, or view more photos and details, see the product detail page.
Prev/Next
«
Book Review: True Believers
Press Reviews for Previews of Skyfall
»