Vintage James Bond Posters to Fetch 5 Grand a Piece
Posted March 8th, 2009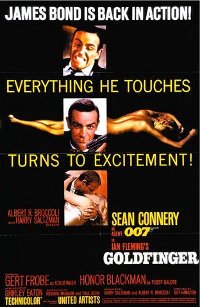 Christie's, a highly reputable auction house established in South Kensington, London in 1766, will hosting a sale of many vintage James Bond posters. The event will take place next Wednesday, March 11.
About 20 posters will be sold, and some of the most esteemed items are expected to fetch over five thousand pounds. The lots include posters from Dr. No, From Russia with Love, Goldfinger, Thunderball, You Only Live Twice, Casino Royale (1967) and On Her Majesty's Secret Service, among others.
More info can be found online at the Christie's Website. Some of the posters are Japanese prints, and quite rare, so they're worth looking at even if you don't plan on bidding.
Prev/Next
«
James Bond Blu-ray 10 Disc Boxset Coming to Costco
Daniel Craig to Present First Light Movie Awards
»