James Bond Blu-ray 10 Disc Boxset Coming to Costco
Posted March 7th, 2009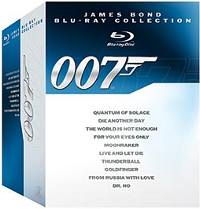 Costco, the largest membership warehouse club in the world, will be offering up the ultimate James Bond Blu-ray experience starting March 24th. You can get your hands on this 10 disc boxset, which is only to be sold at Costco.
The set includes Quantum of Solace, Die Another Day, The World is Not Enough, For Your Eyes Only, Moonraker, Live and Let Die, Thunderball, Goldfinger, From Russia with Love and Dr. No, and is selling for $160, on sale from the normal price of $200.
You can Pre Order online, the discounted price might not last for long. Of course though, in a few months this boxset will be deprecated by the latest package with 15, and then 20 movies. But worth a look for early adopters.
Prev/Next
«
The Music of James Bond at Royal Albert Hall
Vintage James Bond Posters to Fetch 5 Grand a Piece
»