Daniel Craig to Present First Light Movie Awards
Posted March 9th, 2009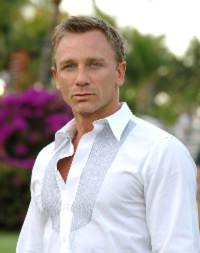 Daniel Craig has been announced as one of the presenters for the First Light Movie Awards. The event celebrates the film making of young people in the UK, and is attended by thousands. The First is actually part of the name, as the awards are now in their 7th year.
The event will be held at the Odeon Leicester Square in London, England, on March 17th. Daniel Craig and Sienna Miller are among the stars who will present young film-makers with awards. Previous ceremonies have included Kevin Spacey, Orlando Bloom, Stephen Fry,and Kate Winslet, among others.
The ceremony, which honours younger members of the profession - many from disadvantaged or minority backgrounds, will be hosted by T4 presenters Miquita Oliver and Rick Edwards and will boast several celebrity attendees.

Also set to present awards are Spooks star Rupert Penry-Jones, Infamous actor Toby Jones and Skins bad girl Kaya Scodelario.

Each of the eight categories including Best Drama, Best Horror, Best Thriller and Best Screenplay have been judged by celebrities such as Skins star Nicholas Hoult, Kate Beckinsale, Orlando Bloom and James Franco.
More information can be found online at the First Light Movies Awards website.
Prev/Next
«
Vintage James Bond Posters to Fetch 5 Grand a Piece
Roger Moore Answers Your Questions for February
»