Skyfall Filming at Four Seasons Hotel
Posted December 2nd, 2011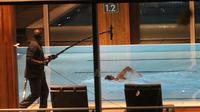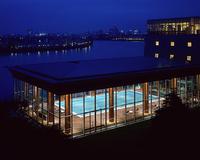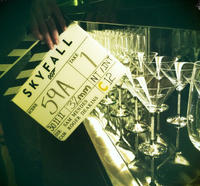 We reported last week that some scenes of Skyfall were to be shot at The Four Seasons Hotel in Westferry Circus, Canary Wharf, London. Filming notices were put up yesterday, and the spa was closed to hotel guests while filming.
Some of the windows were blacked out, but someone managed to snap some pictures of Daniel Craig swimming in the rooftop pool at the hotel. A picture of a glamorous bar full of martini glasses was released on the official 007 twitter feed, and it is rumored that the bar will be linked to the pool scene, even though they were shot at different locations.
The Bond crew recently turned the Ascot Racecourse into a mock Shanghai airport, as the two locations have surprisingly many architectural similarities. it is assumed that the pool and bar scenes will also masquerade as Shanghai locations.
The London premiere of Skyfall will be on October 26th, 2012, and the US release on November 9th, 2012. It will star Javier Bardem as the main villain, Berenice Marlohe as one of the Bond girls, Naomie Harris as Eve, and Ben Whishaw as Q.
Prev/Next
«
Daniel Craig's James Bond Would Have Killed Roger Moore
James Bond's New Watch to be Omega Planet Ocean
»