Picture of Ben Whishaw as Q in Skyfall
Posted July 15th, 2012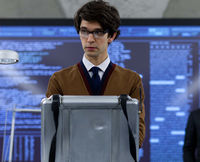 Although it was reported last year that Ben Whishaw was to play Q in the upcoming Bond film Skyfall, his role has only just been officially confirmed. Producers Michael Wilson and Barbara Broccoli announced the news a few days ago, and were happy that the much beloved character will be making a return.
The quartermaster, affectionately known as Q, has been providing Bond's gadgets and weaponry for 50 years, and was first played by Peter Burton in Dr. No. Peter was followed by Desmond Llewelyn, who played Q in 17 films, a record number of appearances for any actor in the series. John Cleese appeared as Q's assistant, R, in The World is Not Enough, and was promoted to Q for his last role in Die Another Day.
Q has long been a fan favourite character, and is one of the classic minor roles of the series, alongside Lois Maxwell's Miss Moneypenny, and Bernard Lee's M. Q will once again be returning, this time as a more modern, computer savy geek.
Daniel Craig had expressed concern at the absence of Q, who appeared in every James Bond film except Live and Let Die, Casino Royale and Quantum of Solace. His input may be part of the reason Ben Whisham was brought into the cast. Q even appeared in the two unofficial non-EON Bond films Never Say Never Again and the 1967 spoof Casino Royale.
Click the thumbnail above to view the full photo, courtesy of 007.com.
Prev/Next
«
Lindy Hemming Talks Bond Style
James Bond and The Queen at the Olympics
»