Peter Nelson Discusses his Keswick James Bond Museum
Posted April 6th, 2009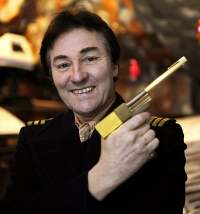 Peter Nelson, the founder of the new James Bond Museum that we discussed earlier, was interviewed by the News & Star, where he discussed how the opening fulfilled his life long dream.
Peter became entranced with all the glamour and excitement of James Bond when he begun reading the Ian Fleming stories as a teenager. But his fascination with Bond, and collecting film memorabilia, grew and grew. And now, after 20 years of collecting, he is poised to fulfill a lifetime's ambition by opening an exhibition featuring the most complete Bond collection in the world.
Tomorrow, to coincide with the centenary of the birth of famous James Bond movie director Cubby Broccoli, Peter Nelson's new Bond Museum opens its doors to the public on Keswick's Southey Hill Trading Estate behind the pencil museum.

For Nelson, this "licence to thrill" is the culmination of two decades of travelling the world in pursuit of cars and other items of movie memorabilia.

Now he hopes the world will travel to Keswick, to see a fantastic collection of James Bond vehicles that bring back memories of some of the greatest film moments of all time.
Check out the complete article at The News & Star, it's a very interesting read.
Prev/Next
«
Devil May Care wins Popular Fiction Award
The Centenary of Cubby Broccoli
»