Devil May Care wins Popular Fiction Award
Posted April 4th, 2009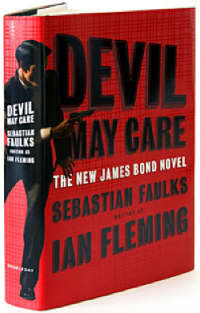 We posted an article last month about Devil May Care, the latest James Bond novel written by Sebastian Faulks, being nominated for a Sainsbury's Popular Fiction Award.
We're glad to announce that Devil May Care beat the competition, taking a steady first place. The awards took place yesterday, April 3rd, at the Grosvenor House Hotel in London. Sebastian Faulks arrived in a Bentley with Devil May Care jacket model Tuuli Shipster.
The awards show will be broadcast on WatchTV at 8.00pm tommorow, Sunday 5th April 2009. Congratulations Sebsatian.
The results were based on user votes, with the following books competing:
Azincourt by Bernard Cornwell
The Outcast by Sadie Jones
Thanks for the Memories by Cecelia Ahern
Things I Want My Daughters to Know by Elizabeth Noble
This Charming Man by Marian Keyes
Devil May Care by Sebastian Faulks
Prev/Next
«
Daniel Craig Quits the Role of James Bond
Peter Nelson Discusses his Keswick James Bond Museum
»