James Bond Museum to Open in Keswick UK
Posted March 28th, 2009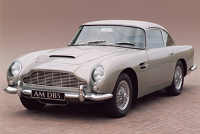 Another James Bond museum will be added to the map on Sunday, April 5th, which marks the 100th anniversary of Producer Cubby Brocolli's birth.
Film buff Peter Nelson has assembled more than 25 vehicles in the former Caterite building on the Southey Hill trading estate. They include submarines, cars, motorbikes and speedboats that appeared in films including Diamonds Are Forever and Die Another Day.
I've been collecting Bond pieces and Bond props quietly over the past 20 years.

"We collected them for the Cars of the Stars and Bond is a big part of the celebrity vehicles; there are 22 films so there is a lot to go at."

Many of the pieces have been donated by actors and crew who worked on the films.

He added: "I got to the point of wondering if I should sell it for fans of Bond to be able to see everything."
Interesting news, and it looks like they have a very impressive offering. Read more at the Times & Star, good read.
Prev/Next
«
Michael Wilson Dicusses the Bond Production
Car List Revealed for Keswick James Bond Museum
»