Who Was the First James Bond?
Summary
The question of which actor first played James Bond, has multiple answers. Most fans consider only the 24 EON Productions Bond films as official. But there were several unofficial films, one of which aired 8 years before EON Productions was founded.
1954

Barry Nelson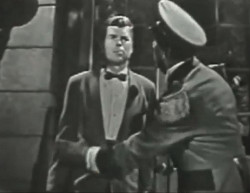 In 1954, an hour long TV adaption of Casino Royale was made as part of the Climax! Mystery Theatre series on CBS. It starred Barry Nelson as 'Jimmy' Bond. The episode opened with Bond walking toward the entrance of Casino Royale. A hand holding a gun came into view of the camera, aiming at Bond's back. The unknown assassin shot four times, blatantly missing, despite the close range.
Bond hid behind a pillar, and the assassin ran away, not wanting to be seen. As Bond walked back toward the doorman, we first saw Barry Nelson's face (pictured left), as he uttered his first words:
I'm still in one piece, but I wouldn't know how.
The episode struggled with a low budget, but for its time, it was an enjoyable watch. Peter Lorre starred as Le Chiffre, and was one of the strongest cast members. Lorre was already well known, having appeared in two Alfred Hitchcock films, as well as two films with Humphrey Bogart, The Maltese Falcon and Casablanca.
1962

Sean Connery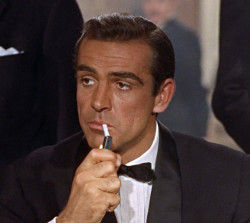 It would be another 8 years before James Bond was introduced to the cinema. In 1962, producers Harry Saltzman and Cubby Broccoli adapted Ian Fleming's sixth novel Dr. No, casting Scottish actor Sean Connery as 007. Dr. No opened with some musical titles that lead into a sequence showing the murder of MI6 agent John Strangways and his secretary, in Jamaica.
Back in London, another agent is sent to collect Bond from the exclusive Le Cercle club at Les Ambassadeurs in Mayfair, London. Bond is shown at a Chemin De Fer table, playing against Sylvia Trench, with his face hidden. Miss Trench is losing money, and continues playing, to which Bond comments:
Bond: I admire your courage, Miss...?
Trench: Trench, Sylvia Trench. I admire your luck, Mr...?
Bond: Bond, James Bond.
As Bond replies with his name, his face comes into view for the first time, as he lights a cigarette, dressed in a particularly smart dinner jacket. Unlike Barry Nelson's introduction, a considerable amount of effort and care was put into introducing Sean Connery.
Indeed, the elaborate set recreating the interior of Le Cercle was only shown for 3 minutes, but no expense was spared in heightening the luxury and spectacle of the scene.
Although Sean Connery wasn't strictly the first actor to play James Bond, he is usually considered to be the original, because Dr. No was the first cinema-released Bond film. It was also the first high budget Bond film, and the first "official" film made by EON Productions.