The Shepperton Story Released Today
Posted March 1st, 2009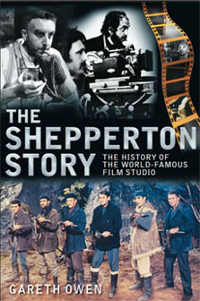 The Shepperton Story is written by Gareth Owen, who has co-written many biographies on Roger Moore, and details the history and events at Shepperton studios, one of England's best film studios. It was released worldwide today in paperback, published by The History Press.
Although Shepperton has no direct relation to James Bond, it's crews and cast certainly do. Director John Glen started his career there in the editing rooms, and did some second unit directing there. Director Guy Hamilton also worked at Shepperton on The African Queen, The Third Man and An Inspector Calls there, to name a few.
The book also covers the troubled production of the 1967 Casino Royale, starring David Niven. The studio has seen many stars over the years including Tom Hanks, Robert DeNiro, Brad Pitt, Orson Welles and Humphrey Bogart, to name only a small few. Although the studio is mostly unknown to the average movie-goer, you can see by the extensive list of it's past cast and crews that it is a quality studio, with a rich history.
The book can be bought online at the usual places. However, you can also get your hands on 1 of only 100 limited edition prints hand signed by author Gareth Owen and James Bond Director Guy Hamilton. They can be ordered until March 20th (or until they run out) at Bond Stars, a highly reputable site that offers certificates of authenticity with every item.
It sounds like a really interesting book, I've just ordered one of the limited editions myself. Better whip one up fast if you're interested, they'll be going fast.
Prev/Next
«
From Russia with Love to Return to the Silver Screen
Pierce Brosnan Builds Gadget Laden Home
»