From Russia with Love to Return to the Silver Screen
Posted February 28th, 2009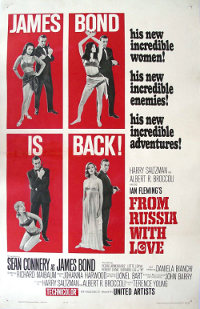 From Russia with Love, the second James Bond movie from 1963, is being re-released across the UK as part of the Cubby Broccoli Centenary celebrations. The film has been digitally restored frame by frame by Lowry Digital Images, and will begin showing on 24th April, 2009.
Cubby Broccoli started the series with Harry Saltzman in the early 1960's, first releasing Dr. No in 1962. Sean Connery has said that he enjoyed filming From Russia with Love the most out of his Bond adventures, and the film rates high in many lists of the Top 10 James Bond Movies.
Traditional film prints can cost up to $14,000, whereas digital prints can be made as cheap as $100, making it much more feasible for smaller cinemas to re-release the films.
The following is an excerpt from Wikipedia's page on Lowry:
Lowry describes the restoration process as overcoming three obstacles: wear and tear, age, and multiple generations of optical copies. Each frame is scanned into a high-resolution digital format, where the computer first checks for standard problems like size alterations or jitter. Then the files go through the lab's render farm for speck removal, which is then eye-checked frame-by-frame.
Prev/Next
«
U.S Navy Giving Away James Bond Stealth Ship
The Shepperton Story Released Today
»