Rory Kinnear Discusses Bill Tanner role in Skyfall
Posted November 17th, 2011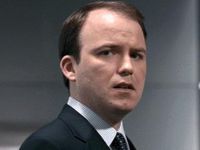 Rory Kinnear, who played M's Chief of Staff Bill Tanner in Quantum of Solace, has confirmed that he is returning to the role in next years Bond 23, Skyfall. In a recent interview with the website Cult Box, Rory gives a bit of insight into the character, as well as a quick update of how the filming has been going so far.
You're currently filming the new James Bond film, Skyfall, returning as M's Chief of Staff, Bill Tanner. How's that going so far?
"Great, we've just been at Pinewood and around Waterloo and Spitalfields doing some scenes with myself and Daniel Craig and Judi Dench. I go through to the beginning of February filming and I think they're on until about April or May."
That sounds like a fairly long shoot for you, does this mean that we see a bit more of Tanner this time around?
"Yes, Tanner gets a bit more facetime this time, the part is a bit more beefed-up. He's basically performing the same role but there's a bit more of him."
There's a lot of excitement surrounding the film with the 50th anniversary coming up; is that excitement present on set as well?
"I think everyone's generally just really excited about the script and how good it is - and we've got Sam Mendes directing.

"Obviously this is now my second one so I know how Daniel and Judi work. We all seem to get on very well so it feels like I'm becoming slightly more part of the family."
Did you expect to return to the role of Tanner after Quantum of Solace?
"No, I wasn't contracted to do any more so I guess I knew there was a possibility but I didn't expect it, no."
In the books, Tanner is Bond's best friend -- would you like to see that dynamic develop onscreen?
"I don't know, the Tanner of Quantum of Solace wasn't really the Tanner of the books, so I guess it's a new kind of role. He's not the same age as Bond, as I think he is in the books, but I think in this film their relationship does develop, yes."
Read the full interview at Cult Box.
Prev/Next
«
Live and Let Die Rolex Sells at Auction
Aston Martin DB5 Voted Greatest Movie Car
»