Live and Let Die Rolex Sells at Auction
Posted November 15th, 2011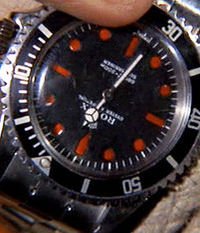 The Rolex Submariner that Roger Moore wore in Live And Let Die just sold at auction for just over $200,000. The auction, held at Christie's in Geneva, Switzerland, included a set of rare and famous watches with an combined estimated sales price of over 21.2 million euros.
The Rolex in the film included a hyper-intensified magnetic field generator, powerful enough to deflect the path of a bullet, as well as a rotating mechanism that turns the watch face into a powerful buzz saw. Bond uses both of these in the film, to cut through the ropes tying him and Solitaire together, and to fetch a CO2 shark bullet for his confrontation with Dr. Kananga.
It also provided one of the films more humorous moments when Bond, at the beginning of the film, uses it to unzip Miss Carusoís dress. Her remark about the delicacy of his touch giving rise to 007's typically sardonic response: Sheer Magnetism, Darling.
Designed by art director Syd Cain, the watch in the lot is one of a very few modified for use in the film. The watch was adapted specifically for the buzz saw feature, the bezel was re-cut to give a sharp cutting edge and modified so that it can rise to its maximum height before spinning. In Cainís design, the buzz saw was activated by compressed air blown through a tube on to specially constructed vanes causing the bezel to rise and rotate.
The other highlight of the day long auction was the sale of a rare 1968 Patek Philippe wristwatch in pink gold, which exceeded it's pre-auction estimate, fetching 2 million swiss francs (approx $2.18 million)
Prev/Next
«
Bond 23: Skyfall in Production
Rory Kinnear Discusses Bill Tanner role in Skyfall
»