Aston Martin DB5 Voted Greatest Movie Car
Posted November 17th, 2011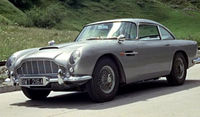 In a recent poll of thousands of Auto Express readers, determining the 50 greatest movie cars of all time, James Bond's Aston Martin DB5 from 1964's Goldfinger came in first place.
It's unsurprising, as one of the two DB5's used in Goldfinger sold at auction last October for £2.6 million. The 282bhp Aston had gadgets including battering rams, tyre slashers, an oil slick, bullet proof windows and an ejector seat.
The DB5 wasn't the only Bond car in the top fifty. Other highlights included the 5th place Lotus Espirit from The Spy Who Loved Me, the 9th place Citroen 2CV from For Your Eyes Only, the 16th place Aston Martin Vanquish from Die Another Day, and the 19th place Aston Martin V8 from The Living Daylights.
The top 10 list follows:
Goldfinger, Aston Martin DB5
Back To The Future, DeLorean DMC-12
The Italian Job, Mini Cooper S
Bullitt, Ford Mustang GT 390
The Spy Who Loved Me, Lotus Esprit
Gone In 60 Seconds, Ford Mustang Mach 1
The Love Bug, VW Beetle
The Dukes Of Hazzard, Dodge Charger
For Your Eyes Only, Citroen 2CV
Cannonball Run, Lamborghini Countach
See the full list at: Auto Express
Prev/Next
«
Rory Kinnear Discusses Bill Tanner role in Skyfall
Interview with Blood Stone Composer Richard Jacques
»