Olga Kurylenko is the 38th Sexiest Women Alive
Posted April 24th, 2009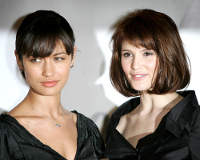 We reported earlier this month that Olga Kurylenko and Gemma Arterton had been nominated as part of FHM Magazine's Top 100 Sexiest Women poll. We also said that we expected at least one win, and we came through with it.
We're pleased to announce that Olga Kurylenko made the list, coming in at #22, which is quite a jump from her previous position of #38 in last years polls. The results were tallied up from over 10 million votes from the public, which is often a more accurate method when compared to a small selection of judges.
Read more at FHM. A list of the top 10 girls is shown below. Isn't it sad that Britney Spears made the list?
Cheryl Cole
Megan Fox
Jessica Alba
Britney Spears
Keeley Hazell
Adriana Lima
Elisha Cuthbert
Kristin Kreuk
Anna Friel
Freida Pinto
Prev/Next
«
James Bond to be Part of The Real Story TV Show
The Girl Machine James Bond Comic Collection Delayed
»