Kurylenko and Arterton May Make 100 Sexiest Women List
Posted April 9th, 2009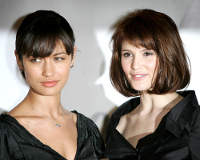 Olga Kurylenko and Gemma Arterton, who played Camille Montes and MI6 Agent Strawberry Fields in last years Quantum of Solace, have been nominated as part of "men's magazine" FHM's 100 Sexiest Women Poll.
The voting has now closed, but it's extremely likely that at least one of them will make the list. Official results will be announced on April 23rd. Olga has previously made the list, being voted #38 in the 2008 polls.
Stay tuned for updates.
Prev/Next
«
The Centenary of Cubby Broccoli
James Bond Celebrations at BFI
»