More Rumors of Naomie Harris Playing Miss Moneypenny
Posted December 16th, 2011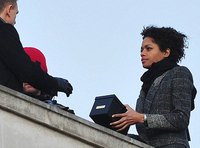 There have been rumors about Naomie Harris playing Miss Moneypenny ever since she was first announced to be part of Skyfall's cast. Daniel Craig had hinted that Moneypenny and Q would return, and we recently revealed that Ben Whishaw is set to play Q. That's one out of the two, what about Miss Moneypenny?
The rumors were thought to be dispelled when Naomie's character was revealed to be a field agent named "Eve". However, according to an article today in the Daily Mail, "she starts as a field operative called Eve and then comes inside the organisation as Miss Money-penny, M's right-hand woman."
The picture on the right is from the filming of a scene near the end of Skyfall, that was shot on the roofs of the Department of Energy and Climate Change in Westminster, London. Would Miss Moneypenny be having secret rendezvous with Bond on the rooftops of London? Will the rumors prove to be correct? Only time will tell.
Prev/Next
«
Roger Moore Reflects on For Your Eyes Only
Skyfall Crew Possibly Filming at Ascot Train Station
»